Portsmouth says goodbye to HMS Ark Royal
The 25-year career of HMS Ark Royal and its affiliation with her home city of Portsmouth was celebrated this weekend with a parade through the city by 250 sailors and the doors of the ship being opened to the public.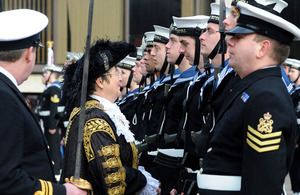 A Royal Marines band led the parade and a special service then took place including speeches from Ark Royal's Commanding Officer, Captain Jerry Kyd, the Lord Mayor of Portsmouth, Councillor Paula Riches, and Leader of Portsmouth City Council, Councillor Gerald Vernon-Jackson.
The event concluded with Captain Kyd presenting the Lord Mayor with a ship's white ensign.
HMS Ark Royal is being decommissioned in March 2011.
Captain Kyd said:
The strong association that Ark Royal has maintained throughout the last 25 years with the city of Portsmouth is immensely important.
It is a real pleasure to be able to mark these links with a parade through the city, reception in the Guildhall, and take the opportunity to open my ship to the public for the final time over the weekend.
Ark Royal has played a very important role throughout her history and we have always been lucky enough to draw great affection and support from the British public wherever we go.
For me, personally, I have been exceptionally proud to serve as her Captain - my very first job after finishing my initial officer training 25 years ago at Dartmouth was in the then brand new HMS Ark Royal. It is therefore a great honour for me to be her last Captain.
I am very fortunate to have an exceptional crew, whose professional skills will be reallocated and valued in the wider Royal Naval Service long after the ship herself has been decommissioned - so her success in delivering carrier strike and valuable corporate memory will continue to serve the Royal Navy well.
I am only too aware that this famous ship and her iconic name mean a great deal to many people, but although Ark Royal will be decommissioned, the new Queen Elizabeth Class aircraft carriers are vastly more capable and will provide the Royal Navy with an exciting future.
Councillor Vernon-Jackson said:
It's very important the city celebrates the close links the Navy, and Ark Royal in particular, has with Portsmouth, and that residents have a chance to say goodbye to this special ship in this way.
I am very pleased to be hosting this event with the Royal Navy. It'll be a very moving day for the whole city.
During her busy life the ship has seen service around the globe and has shown her adaptability from her original role as an anti-submarine helicopter carrier designed for the Cold War through to being a commando helicopter carrier. She has clocked up 621,551 nautical miles (1,150,000km) during her career and made her final entry into Portsmouth on 3 December 2010.
Published 24 January 2011