Portsmouth Naval Base staff welcome new road
A new link road that provides improved access in and out of Portsmouth Naval Base has been officially opened by Her Royal Highness The Princess Royal.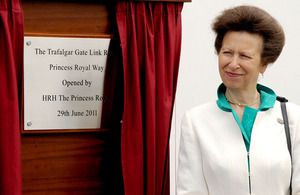 The new road, which links the M275 to Trafalgar Gate at the base, will be known as Princess Royal Way, and has been widely welcomed by employees at the base.
Built by the city council to reduce congestion and air pollution in the city centre, it's hoped that the road will dramatically improve access to the base for staff and visitors alike.
Naval Base Commander, Commodore Rob Thompson, said:
The new link road is proving a big hit with the many thousands of employees at the base and our many visitors too. It is providing greatly improved access in and out of the base and is cutting congestion in the city centre.
As we look to the future the road will help the base in its role as home to the majority of the surface fleet, including the new aircraft carriers.
Before unveiling a plaque outside the gate the Princess Royal was met by the Deputy Lieutenant of Hampshire, Admiral Sir Jonathon Band.
Other guests at the ceremony were the Lord Mayor of Portsmouth, Councillor Cheryl Buggy, and Portsmouth City Council Chief Executive, David Williams.
After the ceremony, the Princess Royal met council staff and contractors who were involved in the project.
Princess Royal Way is a direct route into the base or Portsmouth international port off the M275. Instead of southbound vehicles having to enter the city centre and then double-back, they can make a direct right-turn to their destination.
A wall alongside the road has been decorated with a mural by local artists from Art and Soul Traders, showing ten naval ships through history, starting with the Mary Rose and ending with one of the new aircraft carriers now being built.
The wall will soon also feature artwork from pupils of nearby Flying Bull Primary School.
Portsmouth City Council put about £1.8m into the £8m scheme, with the Department for Transport, the Ministry of Defence and the European Union contributing the rest.