Ports tax rebate confirmed
Saving jobs and freeing firms from balance sheet insolvency.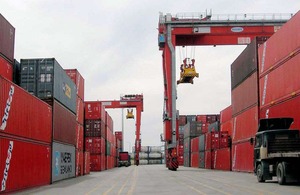 Many port-based firms had faced the threat of balance sheet insolvency after receiving unexpected backdated business rate bills in 2008. The minister confirmed the lifeline that the tax rebate decision has provided.
The £175 million commitment made to waive and repay this unfair tax in the Coalition's emergency Budget has proved a vital lifeline to many firms. As a direct result job cuts have been spared and ratepayers occupying as many as 700 port properties could see the financial burden lifted.
Bob Neill said:
"Our decision to waive and repay these unexpected port-taxes is a victory for common sense, saving jobs and freeing firms from balance sheet insolvency. Many companies across the country are now able to move forward confidently, unburdened by the crippling debts this tax-grab landed on hundreds of businesses."
"Despite the financial situation that we inherited, we have honoured our promise to find a permanent solution to the problem. We've already frozen any bills and are working hard to legislate for their cancellation at the earliest opportunity."
Published 20 July 2010