Ports businesses welcome tax break
Port businesses welcome the news that £175 million of backdated business rates demands is to be cancelled.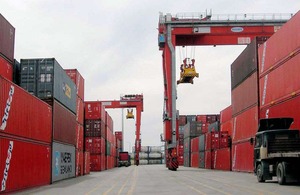 Port businesses all across the country have welcomed the good news delivered in the Budget that £175 million of backdated business rates demands will now be cancelled following last month's initial freeze.
Local Government Minister Bob Neill said:
The dark tax cloud that has been hanging over some port businesses, the backbone of Britain's export industry, for too long has finally been lifted.

The Chancellor's decision to waive and repay the unexpected rates bills for those affected port businesses is a victory for common sense. Many companies across the country will be able to move forward confidently, unburdened by these unexpected debts.
Looking forward
These unfair, retrospective rates bills had threatened to devastate the export industry which would seriously impact the manufacturing sector. Instead an estimated 700 port-based properties out of a total 3,000 properties across the country could now benefit from this budget decision.
Already a number of businesses are looking forward to a better future:
Andrew Finfer, acting on behalf of affected ports businesses said: 
Port businesses welcome the Chancellor's commitment to abolish and repay the unfair backdated liability to pay rates that has caused so much damage to port businesses.  The businesses and their customers can look forward with confidence to the future unburdened from and no longer distracted by the imposition of unfair taxes that have damaged the industry's competitive advantage. 

We have no doubt that the government honouring its pledges will enable businesses to survive, to invest and to create additional employment.
Jens Nielsen, Managing Director of Shipping Company DFDS Tor Line added,
This has been a long, hard campaign and we are delighted to now see the new government deliver on its manifesto promises. We have been extremely impressed with the speed with which this matter has been handled and the also the willingness to listen and engage fully with the ports community. The government has restored our confidence in British politics and we now look forward to again moving our Business forward.
Karl Howarth, Chief Financial Officer of P&O Ferries, said:
We're pleased that at long last we have a government that understands the huge difficulties caused by the port rates debacle and their promise to resolve the issue so that businesses can concentrate on their businesses going forward without this considerable millstone holding them back.
Published 24 June 2010