Portas Pilots to kick-start high street renaissance
Local Government Minister Grant Shapps announces the first 12 Portas Pilot towns.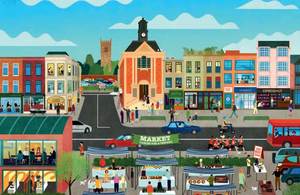 12 town centres across the country will have a unique opportunity to revitalise their high streets after being selected to be the first Portas Pilots, Grant Shapps said today (26 May 2012).
Mr Shapps praised the exceptional quality of the winning bids, which will each receive a slice of £1.2 million and a tailored package of support from both the minister and retail guru Mary Portas.
From Stockport to Margate, successful pilots will be helped to implement their ideas to rejuvenate the town centre, as well as test out the measures in Mary Portas's High Street Review.
First round winners
The first 12 Portas Pilot towns are:
Bedford, Bedfordshire - offering mentoring support for High Street businesses and community use of empty properties
Croydon, Greater London - transforming the riot-stricken area's historic Old Town market into a thriving market, food and cultural quarter
Dartford, Kent - opening up central spaces for use by classes and clubs, from the Scouts to Slimming World and starting a 'school for shopkeepers'
Bedminster, Bristol - putting Bedminster on the map for Street Art and Street Theatre; a bicycle rickshaw service and a review of parking will also tackle the traffic environment
Liskeard, Cornwall - competing against the edge of town supermarket with a vibrant arts scene, guerrilla gardening and yarn bombing to inject fun back into the town centre
Margate, Kent - putting education and enjoyment at the heart of the town centre's transformation with courses, 'job club' services and pop up shops
Market Rasen, Lincolnshire - drawing customers in by restoring the market town look and feel, advertising free parking and mentoring new businesses
Nelson, Lancashire - attracting local students with a young persons cafe, sports activities, and a new art and vintage market
Newbiggin by the Sea, Northumberland - better branding of the town to draw people in, improving local transport and hosting pop up shops
Stockport, Greater Manchester - realising the character and potential of the Markets and Underbanks area with a creative arts complex, outdoor screenings, a new parking strategy and street champions
Stockton on Tees, Teesside - live entertainment at the Globe Theatre to boost the evening leisure economy alongside specialist High Street and evening markets
Wolverhampton, West Midlands - bringing the city will to life with modern day town criers and on-street performers and a 'dragon's den' style competition to support local entrepreneurs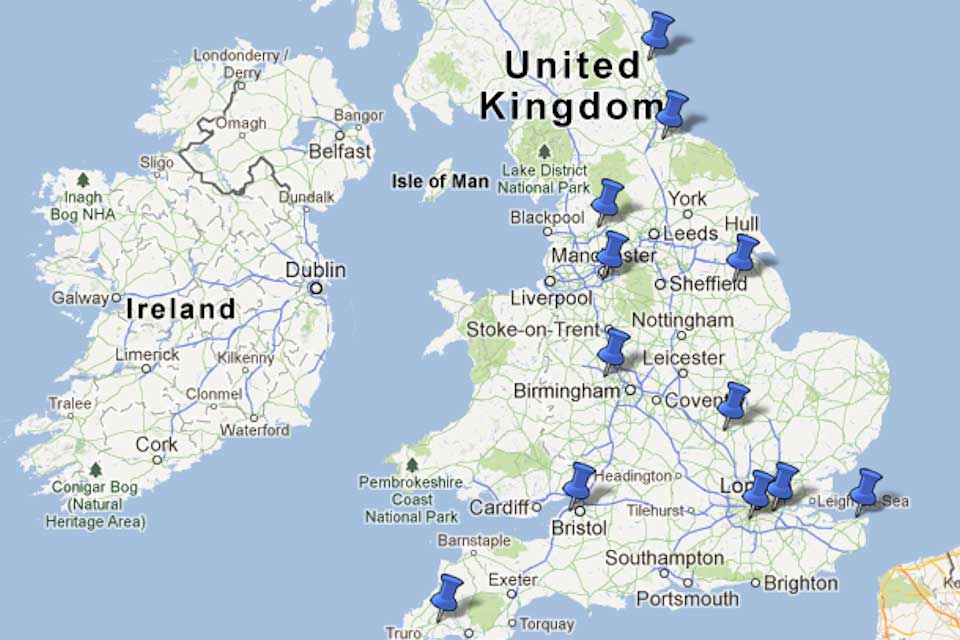 View the Portas Pilots in a larger map
Second round announced
The competition to become a pilot received an overwhelming response, with over 370 applications from across the country. Mr Shapps said unsuccessful applicants should not despair - the quality of the bids has been so high that he was launching a second round of the competition, which will see 12 additional pilots announced by the end of July. The Greater London Authority are also funding a further 3 which takes the total to 15.
Mr Shapps said there was no need for unsuccessful applicants to reapply, but they could sharpen up their bids if they wished and submit them again by 30 June, which was also the deadline for new town teams to apply.
The minister said it was clear that Mary Portas's review into the High Street was the "catalyst communities craved" to get together and secure the future of their town centres.
Local Government Minister Grant Shapps said:
The best local high streets offer more than simply shopping - they are the beating heart of their neighbourhoods: places to meet, work, relax and come together as a community. It's why this competition to become a Portas Pilot has captured the imagination of the nation, with communities across the country uniting to support their high streets.

The quality and sheer number of applications has been overwhelming - 12 winning bids now have the chance receive expert advice and financial support, but I believe more towns deserve to be selected. So today I can announce a second round of the competition will see 15 more town centres benefit from this unique opportunity. Together these pilots can be the vanguard of a high street revolution, and others can look to their example to kick start a renaissance of our town centres.
Mary Portas said:
I've been deeply touched by both the quality and creativity of the bids and the momentum Britain's first town teams have generated in just a few short weeks.

It is now clearer to me than ever that Britain wants its town centres revitalised and the energy and accountability for that needs to rest with the people who live and do business there. My sincere congratulations to everyone who entered.
The Mayor of London Boris Johnson said:
Driving growth and creating jobs through the rejuvenation of London's high streets is at the heart of my mayoralty, and the Portas Pilot initiative is a fantastic way to help us achieve this. Through our regeneration drive we have already started reversing the decay of our high streets that had been allowed set in through long-term underinvestment. So I'm looking forward to receiving some innovative ideas which will help lead the way in steering London out of recession and get these vital economic centres booming again.
Peter Drummond, President, British Council of Shopping Centres said:
With high street pilots being such a central plank to Mary Portas's recommendations to government, today's announcement of the winning Town Teams is fantastic news. Local communities from up and down the country have submitted some incredibly innovative ideas designed to boost struggling high streets, and the enthusiasm demonstrated is to be applauded. We look forward to working closely with them in delivering these ambitious plans, providing free mentoring from within our membership and drawing upon the vast experience therein to maximise what can be achieved. However, importantly we consider this the first step in what should be a crucial ongoing initiative for Britain - both in the context of local community and the wider economy.
Martin Blackwell, chief executive of the Association of Town Centre Management, said:
The competition to be one of the first 12 Portas Pilots has galvanised activity across England focused on improving High Streets. It is a tribute to the resilience of the British public that so many people are willingly volunteering their time, energy and imagination towards saving and improving their own town centre neighbourhoods at the present time. The Association of Town Centre Management looks forward to working with and assisting all the applicants, not just the winners, during the months that lie ahead.
Liz Peace, chief executive of the British Property Federation, said:
Landlords are as committed as anyone to finding a solution to our struggling high streets and creating vibrant town centres, and we welcome the announcement of the 12 Portas Pilots.

Landlords are experts in the fields of property management, place making and marketing, they have a wealth of professional experience that the Pilots can access. We want to give this positive initiative the best possible chance of success and breathe life into struggling high streets.
Support for Town Teams
The 12 new pilots' leading Town Teams will now start work to bring their high street back to life. To help them on the path to success they will receive:
a share of £1.2 million to put their winning plans into action
dedicated contact point in government to provide advice and support in identifying and overcoming challenges to local business growth
free support from retail industry leaders including Mary Portas's own team and access to a range of sector experts
opportunities to meet and discuss with fellow pilots to share their experiences and lessons learned
Areas that are unsuccessful will also benefit from the pilots, as the best ideas and solutions will be shared to help struggling high streets across the country.
This is alongside a range of other measures announced by the Housing Minister in the response to the Portas High Street review, including:
a £1 million Future High Street X-Fund for creative and effective schemes to rejuvenate town centres
a National Markets Day and Fortnight, to celebrate local markets and offer budding entrepreneurs the chance to test their business ideas; and
a £500,000 Business Improvement Districts fund to help town centres access set-up loans
Detail on the Portas Pilots
More information on the pilots:
Bedford
Bedford's Pilot aims to put a 'buzz' back into the town centre with many vacant shops. One key aspect of the bids is to take one of the empty shops and turn it into a show case, sales and support unit for all the other businesses on the High Street and those who aspire to be part of it. Large businesses will support and mentor small independent retailers, and a contract of care between landlords and their tenants will be encouraged. They will also start more imaginative community use of empty properties, building on 'We are Bedford' events, which use empty shops as art venues, to create a platform for fledgling businesses and a new pride and ownership of the town centre.
Watch the video bid from Bedford
Croydon
Riot-stricken Croydon's Portas Pilot will help transform the area's historic Old Town market it into a thriving market, food and cultural quarter, emphasising local heritage. The Pilot aims to attract people from the nearby business district and new housing developments by providing the practical everyday essentials that are missing from local high street shops alongside interesting creative offers. The Town Team will bring in pop-up traders, working with other London markets to attract home grown talent, support improvements to shop fronts, creating a member-owned cooperative to provide small loans for this purpose, and establish a food court in Exchange Square.
Watch the video bid from Croydon
Dartford
Despite Dartford's high average earnings, the town's proximity to London's West End and the Bluewater shopping centre means that very few residents spend on their local high street. Dartford's Portas Pilot will bring the community back into the town centre, opening up spaces for use by classes and clubs, from the Scouts to Slimming World. They will expand market trading days, offer bursaries to set up market stalls and give free pitches to startup companies. They will also offer training to local business owners, reopening an empty unit as a 'social networking shop' for local trades to share knowledge and offer their services and bringing in West End retail experts for a 'school for shopkeepers'.
Watch the video bid from Dartford
Bedminster
On the edge of Bristol, Bedminster intends to restructure its economy for the 21st Century, tackling the empty shops and anti-social behaviour in the eastern end of North Street and East Street. The Town Team aims to make Bedminster an internationally renowned home of Street Art and Street Theatre, with a permanent route of 25 pieces of locally made art around the area, a pop up street theatre and a permanent outside theatre space. A bicycle rickshaw service, a review of car parking and a review of shared space will tackle the traffic environment.
Watch the video bid from Bedminster
Liskeard
Liskeard's hidden high street means that many of its residents are unaware of its charms and are,shopping and socialising elsewhere. The Liskeard Portas Pilot will inject fun back into the tired town centre, battling against the edge of town supermarket with a vibrant arts scene, seasonal and evening events and an evening market. Dedicated volunteers will use flash mob techniques from guerrilla gardening to yarn bombing to awaken the town with empty shops used as art space, and a website and work hub to connect everyone together.
Watch the video bid from Liskeard
Margate
An area of high deprivation and low income, Margate has been labelled as 'Britain's second worst ghost town' with its 36.1 per cent vacancy rate. Margate's Portas Pilot will turn the town's fortunes, putting education and enjoyment at the heart of its transformation. Empty shops will be used for an enterprise centre and courses, 'job club' services and pop up shops. A new quality market will be opened with stalls offered to entrepreneurs, and website, free public WIFI, high street co-ordinator, marketing material and work to improve the look of the local area also help revitalise Margate.
Watch the video bid from Margate
Market Rasen
Market Rasen High street often sees people pass through the town on their way to local sporting events, from the races to rugby, but few stop in to visit the shops. The traditional market town's Pilot will help the area draw customers in by bringing pride back to the local area and restoring the market town 'look'. The Town Team plans to 'blitz' the unkempt areas of the town and work with landlords to tackle empty shops. They will advertise the local free parking and revitalise the market with stallholder demonstrations. Local shops will also be encouraged to open stalls and a 'mentoring' scheme will be put in place for new businesses to start on a market stall and work their way up to a high street store.
Watch the video bid from Market Rasen
Nelson
The historic cotton mill town Nelson is determined to re-establish its town centre as a vibrant hub for a diverse and multi-cultural community. Nelson's Town Team will attract the town's 2000 students to the town centre by creating a young persons cafe with free wi-fi and space to work and socialise. The town centre will hold sports activities such as morning bootcamps, and a new art and vintage market will also be established with college art work displayed in empty premises. Two empty shops will be dedicated to three month artist commissions and many other vacant sites will be granted to young entrepreneurs and artists, with professional business support and marketing.
Watch the video bid from Nelson
Newbiggin by the Sea
Just 20 minutes from Newcastle, Newbiggin by the Sea is a small, isolated village "at the end of a road", and with 36% of its retail premises lying empty, the seaside town could benefit from a serious boost. The Newbiggin pilot will introduce new branding to help draw people into the town, including people from surrounding holiday parks. Plans to improve local transport will make it easier for those living on the outskirts of town to use their high street rather than heading to the city, vacant shops will be opened up to host pop up shops for new traders and exhibitions, and existing Newbiggin businesses will work together to support each other and draw customers back into the town.
Watch the video bid from Newbiggin by the Sea
Stockport
Stockport's proximity to Manchester and the Trafford centre means this large market town's high street is among the worst affected in England. The Markets and Underbanks area in particular has 25 to 50% vacancies, yet this recently restored area has huge character and potential. Stockport's pilot will bring a new vibe to the area with venues owned and run by young people, and a creative arts complex '7 Miles Out'. There will be a programme of evening events to animate Stockport's unique places and spaces such as outdoor screenings in St Peter's Square. Other elements include using the creative community to 'dress' vacant units, support for current and new occupancies, a new strategy for car parking charges, and street champions.
Watch the video bid from Stockport
Stockton on Tees
Rather than directly compete with the retail competition of nearby towns and retail parks, Stockton's Portas Pilot plans to become a thriving and vibrant market town destination that attracts both residents and visitors to shop, eat and drink, as well as providing a vibrant business and retail offer. The reopened Globe Theatre will be a local centre for live entertainment which, along with the ARC arts centre and Cultural Quarter, will be a catalyst for the evening leisure economy. Specialist High Street markets and evening markets will make Stockton a unique shopping destination and improvements in heritage areas, such as spotlights on significant buildings will support the evening economy.
Watch the video bid from Stockton on Tees
Wolverhampton
Wolverhampton's city centre has the fifth highest level of empty shops in the country, with strong competition from neighbouring towns and derelict areas attracting graffiti and antisocial behaviour. The WV One Pilot will bring the city will to life by introducing modern day town criers and on-street performers to promote local events and traders already established in the area will receive additional business support. They will also tackle the high level of empty shops head on with a 'dragon's den' style competition to support local entrepreneurs. The winners will receive cash grants, a free place to trade and a showcase shop.
Watch the video bid from Wolverhampton
Videos of all bids
Watch the video bids from town centres across the country:
Notes to editors
The successful bids come from mix of areas from a variety of town centres and high streets across a geographical spread including market towns, villages, large towns, new towns, coastal towns and suburban areas. The pilots cover both high / low average income levels and high / low empty shop vacancy rates.
The chosen pilots have demonstrated a transformational vision for their high street and strong support from the local community and a wide range of local partners to make it a reality. The lead partner clearly articulated this vision and demonstrated strong support from the local community and a wide range of local partners. The pilots also demonstrated: * strong leadership - pilots areas clearly articulated and delivered a transformational vision for their high street * commitment - demonstrated maximum commitment to the Town Team approach amongst retailers, landlords, the local authority and the local community or community groups * potential for improvement - clear articulation of the problems and challenges, including proposing solutions that would bring real change to their high street * innovation - set out the most innovative ideas that would have maximum impact and can be replicated elsewhere
The Mayor of London, recognising how this initiative complements his extensive efforts to regenerate the capital's high streets, is joining forces with the Department for Communities and Local Government to invest £300,000 to fund three additional London pilots. The pilots will be selected by the Mayor this summer following a bidding process designed to attract the best ideas that will deliver jobs and growth to some of they city's high streets and town centres most affected by the economic downturn and underinvestment.
The Portas Pilots scheme is being supported by other organisations. These include: * Arts Council England, who will offer advice, expertise and potentially grant support to help develop the cultural and artistic elements of planning the pilots; * The Local Data Company has agreed to support the 12 pilots by providing free access to its current and historical data and insight along with peering to national trends. * Springboard Research Ltd has also agreed to provide access data and run workshops for pilots; evidence based research is important to enable the pilots to get a thorough understanding of the issues that they face, the potential solutions. * The British Council of Shopping Centres and the British Property Federation are coordinating a mentor scheme online so that pilot towns can access free specialist advice on issues like property and planning.
The Portas Review: an independent review into the future of our High Streets was published on 13 December, 2011. The review made ambitious recommendations on what can be done - by Government, local authorities and business - to help high streets deliver something new. The focus is on putting the heart back into the centre of our high streets, re-imagined as exciting social hubs for shopping learning, socialising and having fun.
Published 26 May 2012