Port businesses tell minister his tax freeze is saving jobs
Local Government Minister hears first hand how port-based businesses are benefiting from the tax freeze.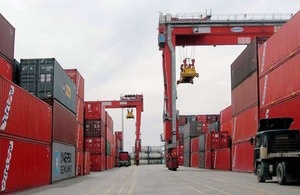 Bob Neill met with representatives from the port-based businesses affected by retrospective business rate charges to explain the new payments freeze.
The minister heard first hand how many port-based businesses were already benefiting from the moratorium with renewed confidence being shown by overseas companies. Mr Neil also reaffirmed his commitment to press for a fair, long term solution.
Bob Neill said:
I was pleased to meet with representatives of ports businesses, and from what I've heard today it is clear to me that we've made the right decision.

The payments freeze implemented last week has given businesses room to breathe, and they are already feeling the benefit. But these are just the first steps - I am committed to finding a fair, long term solution, and we will continue to work hard to make this happen.
Andrew Finfer, acting on behalf of affected businesses said:
We are extremely grateful to Mr Neill (the minister) for acting so promptly to resolve this critical problem facing the ports industry.

The mere fact that the matter is set to be resolved has already provided much needed certainty for port-based companies, with the result that overseas companies have more confidence to do business and jobs have already been saved.

We look forward to working with the minister and the department to finally resolve this matter.
As an urgent first step to meeting the Coalition Agreement commitment, new regulations have been introduced suspending unexpected backdated business rate payments, including for port companies, giving a lifeline to struggling firms and supporting a vital part of Britain's manufacturing industry.
Many ports companies in England were left facing unexpected and significant backdated business rates bills reaching into the millions following a ports review completed by the Valuation Office Agency in 2008 that revised many bills.
Published 4 June 2010