Pornography review launched to ensure strongest safeguards
Review will investigate gaps in UK regulation that allows exploitation or abuse to take place online, as well as identifying barriers to enforcing criminal law.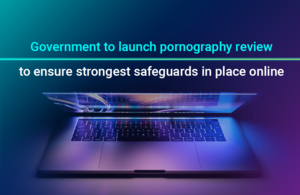 Review to explore regulation, legislation and enforcement of pornography industry
promptly addresses calls to tackle exploitative, abusive and illegal content online
builds on Online Safety Bill measures to protect children online and protect all users from illegal content
Regulation of online pornography in the UK will undergo a thorough review to make sure it is fit for purpose in tackling exploitation and abuse, the government has announced today (Monday 3 July).
As the way we consume media and access content rapidly changes, the Review will investigate any gaps in UK regulation which allows exploitation and abuse to take place online as well as identifying barriers to enforcing criminal law. While the criminal law has been updated in recent years to tackle the presence of extreme and revenge pornography, there are currently different regimes that address the publication and distribution of commercial pornographic material offline, such as videos, and online. The government wants to ensure any pornography legislation and regulation operates consistently for all pornographic content.
The review will also look at how effective the criminal justice system and law enforcement agencies are in responding to illegal pornographic content, including considering if any changes need to be made to criminal law to address challenges law enforcement might have.
It will also consider what more can be done to provide children with information and resources about the harm caused by pornography. This will make sure that illegal and harmful content, such as that which features child sexual abuse and exploitation, or where adults are being exploited, is robustly dealt with.
The Pornography Review is a prompt response to calls for action from parliamentarians and campaign groups concerned with the prevalence and impact on both children and adults of illegal pornographic content and child sexual exploitation and abuse on pornography sites and social media.
This work is separate to, but builds on, the Online Safety Bill, which will hold social media companies and pornography services accountable for ensuring children cannot view pornography, with a new higher standard on the age verification or age estimation tools they must use.
Technology Minister, Paul Scully, said:
Keeping the public safe is the first priority of any government and with technology moving faster than ever, we cannot take our eye off the ball in exploring what more we can do.

Our Pornography Review will look closely at the laws and regulations relating to offline and online content, informing our next steps in tackling the heinous crimes of exploitation and abuse, wherever it occurs.
Justice Minister, Ed Argar, said:
It is vital we keep up with the pace of the online world and this review will help ensure our laws work to protect people online while punishing those who share illegal and harmful content.
The Review will seek expertise across government and significant engagement with the Crown Prosecution Service and police, industry, civil society stakeholders and regulators.
The review will also look at the role of the pornography industry in trafficking and exploiting adult performers, child sexual exploitation and abuse, and how extreme and non-consensual pornographic content online is dealt with.
There are currently several criminal offences, linked to legislation such as the Obscene Publications Act 1959 and the 'extreme porn' offence at s63 of the Criminal Justice and Immigration Act 2008, which can be committed in relation to all pornographic material, whether offline or online. Some pornographic material is covered by communications offences and offences which deal with publicly displayed material in shops and other premises.
Separately, there is a very robust regime of offences tackling the possession, taking and making of indecent images of children, whether they are photographs / films, or non-photographic.
There are also different regulatory regimes, including that established by the Video Recordings Act 1984, which address the publication and distribution of commercial pornographic material offline, and the video-sharing platform regime that addresses some online pornography.
Notes to editors
The Review will involve a range of government departments, including the Department for Science, Innovation and Technology, Ministry of Justice, the Home Office and the Department for Culture, Media and Sport.
Further scope of the Review will be set out in due course.
The Review is aiming to be completed within a year.
Published 3 July 2023