Pop stars sing for wounded troops
A star-studded line-up of pop singers raised more than £500,000 for Help for Heroes in a spectacular charity concert held at Twickenham Stadium on Sunday night. Report by Lorraine McBride.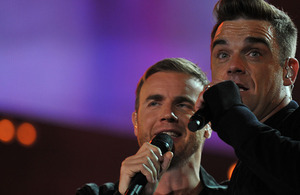 Performers included Robbie Williams, Gary Barlow, Tom Jones, Pixie Lott, Katherine Jenkins, The Saturdays, Alesha Dixon, former Army officer James Blunt and Alexandra Burke.
Also in the line-up were veteran entertainer Bruce Forsyth and comics Peter Kay, Jack Dee, Michael McIntyre and Jason Manford.
60,000 fans packed the stadium, including military guests from the rehabilitation centre at Headley Court. The recovering servicemen were given seats just yards from the stage.
Opening the show with her single 'Drummer Boy', Alesha Dixon was joined by 40 drummers from the Grenadier Guards, filling the massive stage.
Tom Jones followed, performing his classic 'Green, Green Grass of Home':
It was fantastic, the crowd were great," Tom said. "It's for a great cause, which is the most important thing. When they come home from fighting, these men and women have to be looked after. We cannot just say thank you very much. They need money, and my way of doing it is to do a show like this.
See Related Links for a gallery of more images from the Heroes Concert.
Tom was a child during the Second World War, and said he could remember the sense of a direct threat from an enemy:
Thank God for our heroes then. They are very important for me because if they didn't do what they did, then I wouldn't be here. So if troops come back, we cannot do enough and we should do as much as possible.
All the performers paid tribute to the Forces. Alexandra Burke said:
At the end of the day, our troops are out there doing something for us and it's always great to give back to them. When I was on X Factor, we released our song 'Hero' for their charity and it's fantastic to come back.
Welsh opera star Katherine Jenkins is famed for her support of troops. In 2006 Katherine launched the British Legion's Poppy Appeal and she visited Iraq to sing for troops there:
It was brilliant," she said of her performance later. But she was also quick to remind reporters of a poignant reason for her presence.
I would like to see more artists going out there. It is so important that we really appreciate them and are thinking about them at home.
For many, the highlight of the show was Robbie Williams's reunion with Gary Barlow. It was the first time the pair had performed live together in 15 years. Robbie closed the show when he dedicated a stirring version of 'Angels' to 'our boys and girls'.
The Help for Heroes charity, founded by Bryn and Emma Parry in 2007, has raised £61m to date for British troops wounded while serving their country. As Bryn arrived at the stadium, he was confronted with a scene that he could not have contemplated when he launched his charity a few years ago:
I couldn't believe it," he said. "There was Tom Jones rehearsing 'Green, Green Grass of Home' before a giant backdrop depicting the wounded. It was an amazing moment; I looked up and said 'This is all for the boys'. It is just remarkable.
Among the many wounded soldiers present was Trooper James Dolby, 19, from The Royal Dragoon Guards, who was injured in a bomb-blast in June. It left him with serious leg and eye injures:
Help for Heroes has made a very big difference because it helps the lads through the rehabilitation process quicker, especially those who have sustained a serious injury," he said. "Double amputees get so much out of it.
Lance Corporal Wyn Austin was at Headley Court for just a week. He suffered a traumatic amputation and crushed vertebrae when his armoured personnel carrier was hit by an improvised explosive device.
Both soldiers happily admit they have benefited from Help for Heroes' fundraising:
There's not a lot that I can do at the moment," said Lance Corporal Austin. "But they are pushing me so that when I'm ready to start walking I'll be fully prepared.
The injured don't get mentioned much, but they are just as important [as the able-bodied] because they are trying to crack on with their life with difficulty. Help for Heroes plays a major part in getting the wounded back to their old selves, which is brilliant.
Help for Heroes started with an appeal to build a swimming pool at Headley Court, which was completed this summer. The charity's next goal is to raise £35m to build five recovery centres (four Army and one for the Navy) and a further £15m to provide courses for recovering troops.
Will the concert become an annual event? Bryn smiled and said:
I don't know. You can only dream, can't you?
Published 13 September 2010