World news story
Political Officer vacancy in the British Embassy, Helsinki
A full-time, permanent position for a proactive team player has opened in the Embassy's Political Section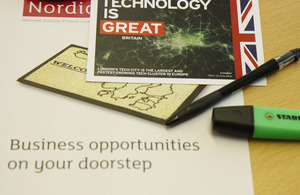 The Embassy is responsible for developing and maintaining relations between Britain and Finland.
Our political section works to promote political links between the UK and Finland bilaterally and as European Union partners. Further information on our work.
The Position
As the Embassy's Political Officer, your duties will include researching and reporting on a variety of internal political and EU related issues, building a network of contacts across the Finnish Government, think tanks, academic and business communities and civil society and engaging with them to gather information and lobby on behalf of the UK. You will be based within the Political and Press Section, but will also work closely with other colleagues in the Embassy. You will be particularly focused on security policy, defence policy and justice/home affairs. Over time we will expect you to become the Embassy's resident expert on these areas. You can also expect to cover a wide range of other topics depending upon the Embassy's priorities, relating for example to topical domestic issues. As necessary, you will work with other colleagues in the political section on planning, organising and hosting visiting delegations from the UK. You will also contribute to organising public diplomacy events at the Embassy.
Skills and experience of the preferred candidate
A university degree (preferably masters-level) in political sciences or other relevant subject.
Excellent communication skills, including fluency in both written and spoken English and Finnish.
Good influencing and public presentation skills.
Demonstrable knowledge of the Finnish political system and society and a good awareness of the European Union and UK.
Excellent organisational skills and an ability to prioritise tasks and work to deadlines.
A customer-focused approach and a positive attitude.
Creativity, flexibility and an outgoing personality.
An ability to learn quickly and a willingness to learn and develop new skills.
An ability to work independently and to take the initiative as well as being able to work well with others.
Excellent IT skills (Word, Outlook, MS Access, Powerpoint and Excel).
Prepared to travel overseas for work/training purposes when required.
Previous experience of similar work is desirable.
Terms and Conditions
The British Embassy offers competitive terms and conditions of service. Starting salary for this position is €2421 per month. The annual leave entitlement is 20 days, rising to 25 days after one year's service. The Embassy pays an annual holiday bonus. Embassy employees are entitled to a private medical scheme for basic healthcare services and to use the Embassy's recreational facilities. Free parking is normally available at the Embassy building. Normal working hours are 0900-1645. Any extra hours worked are compensated by time off in lieu or by monetary payment for hours worked on Sundays or Finnish Public Holidays. The Embassy pays the employer's contribution to the Finnish Pension Scheme but does not make tax deductions from employee salaries and it is the responsibility of employees to ensure tax payments relating to their Embassy salary are made to the Finnish authorities. There are opportunities for professional and personal development and training both in Helsinki and elsewhere.
Any final appointment will be subject to necessary security clearance and a four month probationary period.
Please send your application in English with a current CV, stating why you are suitable for the job, by email to Recruitment.Helsinki@fco.gov.uk or by mail to Sofia Suvila, British Embassy Helsinki, Itäinen Puistotie 17, 00140 Helsinki. The deadline for applications is 8.5.2013. For enquiries about the position, you are welcome to telephone the Political Section (+358 9 2286 5216) on Monday 29.4.2013 or on Monday 6.5.2013.
Interviews for the appointment are likely to take place during week 21 and we would like the successful candidate to start by mid-June. If you have not been contacted for an interview by 20.5.2013 your application has not been successful. The British Embassy is an equal opportunities employer and does not discriminate on the grounds of ethnic origin, race, religious beliefs, age, disability, gender or sexual orientation.
Published 24 April 2013