World news story
Political & Communications Officer for British Embassy Asunción
The British Embassy in Paraguay is seeking a Political & Communications Officer.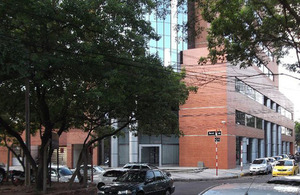 The British Embassy is looking to employ a full-time Political & Communications Officer to lead on the monitoring and reporting of political developments in Paraguay; engagement with the media; and the promotion of the United Kingdom's policies through public diplomacy activities. This is a key position at the heart of the Embassy.
The successful applicant will work closely with the Ambassador and colleagues in London to promote the UK in Paraguay and report on issues that fall within the scope of the United Kingdom's strategic priorities.
Applicants should have at least five years experience of working in political affairs and/or media and strategic communication and previous staff management experience. The position requires a thorough knowledge of Paraguayan politics and currents affairs, good contacts across the political and media spheres and the ability to lead others. You should have some experience of delivering successful media events, have managed others, and have excellent interpersonal skills and communication skills.
Applications should be submitted in English to the British Embassy at BE-Asuncion.Recruitment@fco.gov.uk by close of business on 27 July 2013. For the full job description and further details of how to apply, please visit our 'Working for the British Embassy's page´.
The British Embassy is an equal opportunities employer and does not discriminate on grounds of ethnic origin, race, religious beliefs, age, disability, gender or sexual orientation.
Published 14 July 2013