News story
Policing Minister praises digital innovators
Damian Green sees how Hampshire Police use technology to save officers' time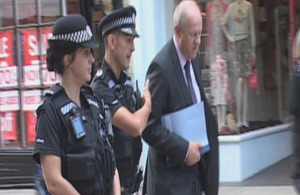 Policing Minister Damian Green has praised Hampshire Police's "effective and ambitious" use of digital technology.
He visited Winchester this week to learn about the force's digital initiatives, including mobile working, digital case files and body-worn video.
Hampshire is one of 22 forces signed up to the Digital Pathfinders programme, which encourages forces to modernise by using technology.
Saving time
The minister was shown how officers complete electronic witness statements using mobile data terminals and use body-worn cameras to record footage of incidents and interview witnesses.
The technology reduces how long it takes to record and process a statement, saving officers' time because they do not need to return to the police station to type out handwritten notes.
The minister also visited Winchester Crown Court to see how digital working is speeding up justice.
Policing Minister Damian Green said:
I have seen how effective and ambitious Hampshire Police are at using digital technology, whether that is using tablets so officers can stay on patrol and not go back to the police station to file reports, or using body-worn cameras so if any incidents happen they can record them.

All this means individual police officers can be more effective at doing their job and more visible at the same time because they spend more time on the streets.

This is the way policing will go. It is the next big stage of reform – to make sure police come into the 21st century and the digital world fully.

We need to spread that through the rest of the criminal justice system so prosecutors and courts can participate too.
Published 21 August 2013