Police dogs help airborne gunners broaden their horizons
Colchester-based airborne gunners have been chased down by police dogs during training.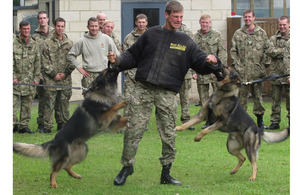 F Battery, 7th Parachute Regiment Royal Horse Artillery (7 Para RHA) has taken part in Exercise Sphinx Diligence, designed to develop soldiers' teamwork and broaden their skills beyond their core artillery role.
On 20 July, the gunners were visited by Essex Police Dog Unit, who bought 12 dogs to demonstrate their sharply honed skills. The German Shepherds are trained to search areas to find missing people or criminals and enforce public order.
The police dogs tracked down soldiers hidden around Colchester's Merville Barracks before the troops were padded up to be chased and detained by dogs.
Bombardier Mick Hall was grounded by Baron, handled by PC Gary Lambert. Bombardier Hall said:
It was both exciting and frightening when I heard the dog coming up behind me, and I really felt the power when the dog got its jaws around my arm, even through the padding.
The dogs have been great fun, with a lot of banter, but the whole exercise has been interesting because everything has been different to the usual gunnery we do.
Police dog instructor, PC Colin Elsegood, said:
An event like this gives an extra dimension to the dogs' training.
It exposes our dogs to some very fit people who will run and react in a different way to what they are used to.
During the two-week long exercise, troops have practised the infantry skill of fighting at Fingringhoe Ranges, learnt self-defence at SD School of Martial Arts in Colchester, and visited the Imperial War Museum at Duxford.
Battery commander Major Chris Coton said the purpose of the varied exercise was to 'take our soldiers out of their comfort zone'.
Major Coton said:
This exercise has been about exposing our soldiers to activities that are very different to the usual artillery training and that they may not have done before, in a way that is both fun and worthwhile.
This activity with police dogs is a good test of courage, with the dogs also providing a superb example of discipline and training. Everyone's really enjoyed it, with our soldiers providing guinea pigs for the dogs to play with!
Published 24 July 2012