Podcast marks International Human Rights Day
The third in our series of human rights themed podcasts focuses on the theme of social media and human rights, featuring insights from Index on Censorship, Article 19, Free Belarus Now, Sablat Oman and Computer Science at University College London.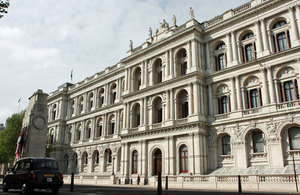 This audio download is introduced by the FCO's Minister with responsibility for human rights policy Jeremy Browne.
We have invited a range of experts to give their perspectives on the role of social media and digital technologies in helping people around the world claim their basic freedoms, promote democratic change and raise awareness of human rights issues.
We asked them to reflect on developments in 2011 and to discuss the challenges in this area, such as online censorship and the use of technology for restriction and surveillance, and to give their thoughts on developments in 2012 and beyond.
Participants include:
Agnes Callamard, Executive Director of Article 19
Irina Bogdanova, Representative of European Belarus in the UK and Director of Free Belarus Now
John Kampfner, Chief Executive of Index on Censorship

Dr Sue Black, Senior Research Associate in the Department of Computer Science at University College London and founder of online networks LondonBCSWomen, BCSWomen and The goto Foundation

Moosa Abdulla Al Farei, Chairman of the Sablat Oman Internet forum
The podcast is available listen to below or you can download via our website or iTunes.
Human rights: International Human Rights Day, 10th Dec 2011 by Foreign & Commonwealth Office on Mixcloud
Published 12 December 2011