Press release
PM's Envoy for the Sahel condemns terrorist attack in Bamako
Stephen O'Brien MP, the Prime Minister's Envoy for the Sahel, condemns terror attacks in Bamako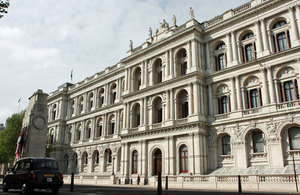 Stephen O'Brien said:
I utterly condemn today's cowardly and barbaric terrorist attacks in Bamako, Mali. I offer my sincerest condolences to the families and friends of those killed and I wish a speedy recovery to those injured.

The UK stands shoulder to shoulder with Mali in its efforts to counter the threat of terrorism and extremist violence. We will continue to support the Malian people and urge all parties to join the peace process and to work together to deliver a more stable and prosperous country.
Further information
Follow the Foreign Office on twitter @foreignoffice
Follow the Foreign Office on facebook and Google+
Published 7 March 2015