PM unveils Spitfire in Whitehall marking Battle of Britain Week
The Prime Minister and Secretary of State for Defence have paid their respects to the veterans of the Battle of Britain by welcoming a full-size replica of a Spitfire to central London.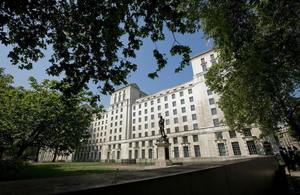 The replica Spitfire was unveiled outside the Ministry of Defence in Whitehall yesterday, Monday 13 September, by David Cameron and Dr Liam Fox, kicking off a week of events up and down the country to commemorate and celebrate the bravery and sacrifice shown during the Battle of Britain.
The replica Spitfire will be positioned on Whitehall, outside MOD Main Building, opposite Downing Street, from 13 to 17 September, to commemorate the 70th anniversary of the Battle of Britain.
The aircraft is a replica 41 (Fighter) Squadron Supermarine Spitfire Mk1, circa 1940. She was originally a replica of a Mark IV Supermarine Spitfire, owned by the Imperial War Museum, which has since been converted into a Mark 1 aircraft.
To mark the event Prime Minister David Cameron met with four Battle of Britain veterans: Geoffrey Wellum, Bob Foster, Owen Burns and William Walker.
Defence Secretary Dr Liam Fox, Minister for Defence Personnel, Welfare and Veterans, Andrew Robathan, and Chief of the Air Staff, Air Chief Marshal Sir Stephen Dalton, were also present at the event.
Flight Lieutenant William Walker, now aged 97, said 'it was a very proud day'.
Flight Lieutenant Walker flew Spitfires as a pilot officer in the RAF from May until August 1940, when he was shot down by a Luftwaffe Messerschmitt 109 and had to bail out over the English Channel, from where he was rescued by a fishing boat:
People must always remember what happened. You and I wouldn't be here today if it wasn't for those men," he said.

It is nice that people remember us. It's very satisfying.
Also among those at the unveiling was Geoffrey Wellum, whose bestselling book 'First Light', which chronicles his experiences as the youngest Battle of Britain pilot, has been made into a docudrama to be shown on BBC2 tonight.
Air Chief Marshal Sir Stephen Dalton added:
For their bravery and sacrifice in defence of our freedom we will never forget all those Royal Air Force men and women who worked tirelessly together to deny Hitler the control of the air that was essential before the Nazis could mount an invasion of Britain.
On Battle of Britain Day on Wednesday (tomorrow), a memorial will be unveiled in London to Air Chief Marshal Sir Keith Park who commanded Number 11 Group of Fighter Command which was responsible for the protection of the capital and the South East and contained the squadrons which bore the brunt of the action.
On Sunday, a national 70th anniversary commemorative service will be held in Westminster Abbey.
Published 14 September 2010