PM thanks military personnel for Olympics role
During a visit to HMS Ocean, which is moored on the Thames, Prime Minister David Cameron paid tribute to all the military personnel on duty over the Olympic period.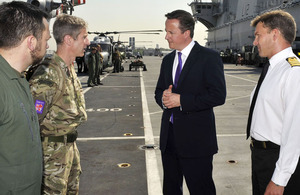 Spending around an hour onboard the ship - berthed at Greenwich in East London to enable her to carry out her role in providing military security for the Games - Mr Cameron was given a tour of the ship by officers, sailors and Royal Marines, and was briefed on the security preparations.
HMS Ocean is acting as a helicopter operating platform, command and control centre, and a logistic hub in support of Police maritime security operations. She is also accommodating over 1,000 military personnel who will provide security at Olympic venues across London.
Mr Cameron said:
The security of the Olympics is absolutely vital. We have worked out plans for all eventualities and I wanted to come and thank some of the people that are responsible for that and that's why I'm here today.
But now it's exciting because we're only two days away from what's going to be an incredible show.
A great moment for Britain, a great moment for our athletes, but also a great moment for all of our country, and I think we want to make the most of it as a country.
The primary role of HMS Ocean is to carry and deliver an Embarked Military Force supported by twelve medium-lift helicopters, six attack helicopters and four Landing Craft.
Her secondary roles include striking targets ashore using embarked attack helicopters, afloat training, defence diplomacy, providing a limited anti-submarine warfare (ASW) platform, a base for counter-terrorist operations and humanitarian assistance.
The design of the 22,000-tonne amphibious assault ship allows up to 40 Land Rovers, 34 trailers and six 105mm light guns to be carried internally, on her vehicle deck, which can be quickly disembarked using the large side and stern exit ramps.
During the assault phase of an amphibious operation, HMS Ocean could launch two waves of troop-carrying Royal Navy Sea King HC4 helicopters from 845/846 Naval Air Squadrons, as well as operating the smaller armed reconnaissance Lynx helicopter of 847 Naval Air Squadron.
Published 26 July 2012