Press release
PM meeting with President Bachelet of Chile: 13 May 2016
Prime Minister David Cameron and President Bachelet of Chile discussed anti-corruption, economic and scientific co-operation and education.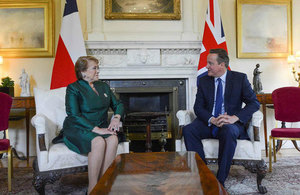 Following the meeting, a Downing Street spokesperson said:
The Prime Minister this morning held a meeting with President Bachelet of Chile. Both leaders reaffirmed the historic significance and strength of the bilateral relationship, and expressed a commitment to deepen these ties further.

The Prime Minister updated the President on the success of the Anti-Corruption Summit held in London yesterday and President Bachelet expressed her support for this agenda.

The Prime Minister and President Bachelet then spoke about areas for future economic and scientific co-operation. Topics discussed included ways in which the UK and Chile can collaborate on research in the Antarctic as well as strengthen the Antarctic Treaty System. They agreed that there were significant opportunities to work together on the diversification of the Chilean economy, in particular the modernisation of the mining sector.

On education, both leaders welcomed the strong ties between the 2 countries, which the Memorandum of Understanding(MoU) signed today on mutual recognition of qualifications will build upon.
Published 13 May 2016