PM meeting with leading CEOs in AI: 24 May 2023
A joint statement between the PM and leading CEOs in Artificial Intelligence (AI) following a meeting to discuss the development of safe and responsible  AI.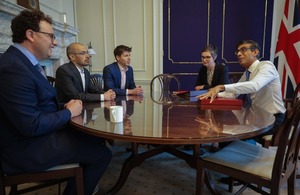 Prime Minister Rishi Sunak met the CEOs of OpenAI, Google DeepMind, and Anthropic today to discuss joint action to ensure the development of safe and responsible Artificial Intelligence and how to establish the right approach to governance for the next technological frontier. The Secretary of State for Science, Innovation and Technology, Chloe Smith, also joined the meeting.
The PM made clear that AI is the defining technology of our time, with the potential to positively transform humanity.
But the success of this technology is founded on having the right guardrails in place, so that the public can have confidence that AI is used in a safe and responsible way. The PM set out how the approach to AI regulation will need to keep pace with the fast-moving advances in this technology. That is why the UK Government has deliberately adopted an agile response to unlock the opportunities whilst mitigating the risks of the technology, as outlined in our AI White Paper.
The potential impacts of AI transcend borders and have implications for the world economy. He outlined that AI safety will increasingly be an international endeavour – as agreed at the G7 – with the UK well placed to lead the international discussion regarding the measures and guardrails that are needed. This work would build on the UK's engagement already underway through other international forums.
The PM and CEOs discussed the risks of the technology, ranging from disinformation and national security, to existential threats. They discussed safety measures, voluntary actions that labs are considering to manage the risks, and the possible avenues for international collaboration on AI safety and regulation. The lab leaders agreed to work with the UK Government to ensure our approach responds to the speed of innovations in this technology both in the UK and around the globe.
The PM spoke about the UK Government's ambitions to advance capability in AI and harness AI's potential to deliver better outcomes for the British public, with emerging opportunities in a range of areas to improve public services. The CEOs agreed to work closely with the Foundation Model Taskforce, which is backed by an initial £100m of start-up funding, to deliver this. The Taskforce will advance approaches to AI safety which will inform international approaches.
AI will improve life dramatically, from transforming industries to delivering scientific breakthroughs. The PM and CEOs committed to work together to ensure society benefits from such transformation.
Published 24 May 2023