Press release
PM meeting with Herman van Rompuy
David Cameron discussed EU priorities for the autumn with the President of the European Council at Downing Street.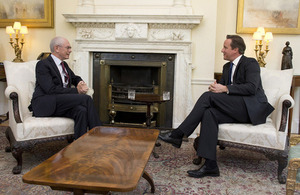 Following the meeting, a Downing Street spokesperson said:
The Prime Minister held a 40 minute bilateral with the President of the European Council, Herman van Rompuy, at Downing Street earlier today. Their discussions focused on their EU priorities for the autumn, particularly the forthcoming October European Council.

The Prime Minister made clear that deregulation would be a key priority for the summit, following on from the recommendations from the Business Taskforce that is due to publish its report next week and the Commission's recent proposals in this area. They also discussed the importance of establishing consistent safeguards for those countries outside the Eurozone as members of the single currency finalise agreements on banking union.

They also touched on EU proposals on data protection where the Prime Minister emphasised the need to get the proposals right so that they don't impose unnecessary burden on business. Looking ahead to the December European Council that will focus on defence, the Prime Minister emphasised that we want to focus on operational capabilities and complementarity between the EU and NATO.
Published 8 October 2013