Press release
PM meeting with Donald Tusk: 31 January 2016
Prime Minister David Cameron welcomed European Council President, Donald Tusk, to Downing Street to discuss EU reform.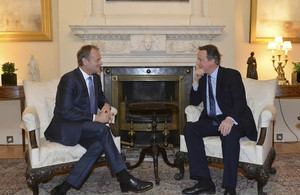 Following the meeting a Downing Street spokesperson said:
The Prime Minister and President of the European Council Donald Tusk had a productive working dinner tonight, going through the draft proposals for reform in each of the 4 areas set out by the Prime Minister.

Much progress has been made, particularly in the last 48 hours since the Prime Minister's meeting with President of the European Commission Jean-Claude Juncker on Friday, but there is still more hard work required.

On welfare, the Commission have tabled a text making clear that the UK's current circumstances meet the criteria for triggering the emergency brake. This is a significant breakthrough, meaning the Prime Minister can deliver on his commitment to restrict in work benefits to EU migrants for 4 years.

But there are still areas where there is more to do and both agreed it was therefore worth taking the extra time to make further progress.

One such area is economic governance where we want to ensure the enforcement mechanism is watertight, recognising that there must be ways to escalate an issue where we have concerns. Another is abuse of free movement, where we want to see more substantive proposals including closing backdoor routes to Britain which have enabled non-EU illegal migrants to stay in Britain in recent years.

Sherpas will meet early in Brussels tomorrow and work through the day to resolve the outstanding issues.

In the spirit of a constructive meeting, Tusk signalled that he plans to circulate a draft text to all member states on Tuesday.
Published 31 January 2016