PM challenges Departments to slash energy use
Building on the Government's commitment to reduce emissions across the central government estate by ten per cent, the Prime Minister has today challenged Departments to compete to reduce the energy used in their departmental headquarters over the month of October 2010.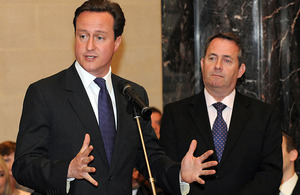 As Departments strive to cut emissions at their Whitehall headquarters, an online league table will be updated daily to allow the public to see how each Department is doing.
Prime Minister David Cameron announced on 14 May 2010 that Government Departments would cut their emissions by ten per cent within 12 months and pledged to make this the 'greenest government ever'.
As part of that effort, a series of monthly inter-departmental competitions will run until May 2011.
Since July 2010, the MOD, along with other Government Departments, has been displaying real-time energy use for our headquarters building on our website - see Related Links. That data is now being compared across Departments and you can see how we are getting on in the competition on the Greener Government website - see Related Links.
For October the competition is focused on departmental headquarters, and for the MOD this will be Main Building.
The competition is based on which Departments do the most during the month of October 2010 to reduce energy consumption as a proportion of their energy use, compared to the total energy consumption since all real-time data systems became up and running on 1 August 2010. Future competitions may focus wider. However, saving energy can save money across the Department and everyone can help achieve our targets.
The Prime Minister said:
In May I called for real action to make us the greenest government ever. I made a commitment that over the next 12 months central Government Departments would reduce their carbon emissions by ten per cent. We have made a start but clearly we can all do much more to show leadership on this vital issue. So today is a clear challenge to Cabinet Ministers and an opportunity for the public to hold us to account.
Secretary of State for Defence, Dr Liam Fox, said:
I am personally committed to ensuring MOD supports the Prime Minister's pledge to make this the greenest government ever and I encourage all staff to take action, where appropriate, to help the Department meet this challenging target.
Facilities managers across the Department have been working hard since the Prime Minister set the challenge in May to meet the ten per cent target, which applies to 25 MOD buildings across the whole estate. Changes which have started to take place across the estate include making the most efficient use of our heating systems, including temperature mandates, and alterations to lighting and IT equipment. However, we all need to do our bit to ensure the MOD performs well in the monthly competition and meets its ten per cent target.
The things you can do include:
using staircases rather than lifts where you can;
shutting down computers and turning off monitors during prolonged absences;
turning off printers and fax machines at the end of the day;
thinking about whether you need to print or photocopy all the pages of a document or just some of them;
selecting the double-sided option whenever you are printing or photocopying.
The challenge has been set. The competition will be based on which Departments' ministerial headquarters buildings do the most during the month of October 2010 to reduce energy consumption as a proportion of their energy use, compared to the total energy consumption in September 2010.
You can find the league table on the Greener Government website - see Related Links.
Energy and Climate Change Secretary Chris Huhne said:
Whitehall must lead the way if we are to inspire the public to reduce their energy use. This challenge underlines the urgency of tackling emissions and introduces some healthy competition to bring out innovative ideas.
Making a ten per cent reduction in emissions in just one year needs all Departments to make a contribution and in particular staff need to play their part in building a greener government.
Minister for the Cabinet Office, Francis Maude, said:
This is about Whitehall being more efficient - saving energy, saving money; and more transparent - publishing the information that allows the public to hold government to account.
If you are based in Main Building, why not come and visit the 'Greener Government Project Ten' stand at the top of the North Door escalators and sign up to helping us get our green credentials.
Published 30 September 2010