World news story
PM and Prince Harry encourage applications for GREAT Tech Awards
At 'Innovation is GREAT Britain' event in New York, PM David Cameron and Prince Harry announced applications are open for GREAT Tech Awards.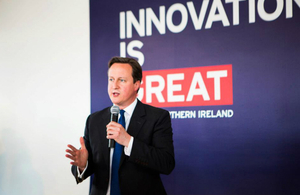 UK Prime Minister Cameron and Prince Harry arrived on the eye-catching double-decker New Bus for London, built in Northern Ireland by Wrightbus and designed by Thomas Heatherwick.
At the event attended by the Prime Minister and Prince Harry, British Consul General to New York, Danny Lopez, spoke to an audience of entrepreneurs and leading figures in the media and fashion industries at the iconic Milk Studios in New York City.
Consul General Lopez said:
Britain is open for business and the UK government is committed to supporting entrepreneurs and small businesses as the drivers of growth. The UK is Europe's centre of innovation and the location of choice for US tech companies seeking to expand globally. The GREAT Tech Awards will give five New York start ups a huge boost in their overseas expansion. The Awards will also showcase British start-ups succeeding in New York.
Paul Murphy, Advisory Board Member and Senior VP of Betaworks, said:
The New York and London tech scenes have many similarities, including strong industries to serve with an excellent pool of engineering and creative talent. I think this competition will highlight the opportunity to accelerate business growth from the UK.
Chris Rossi, Senior Vice President, Virgin Atlantic Airways said:
We're delighted to be supporting the GREAT Tech Awards. Innovation and entrepreneurialism are at the core of Virgin Atlantic's ethos. In fact, nearly thirty years ago, Richard Branson, one of the world's most famous entrepreneurs, started the airline with a flight between New York and London and we have been innovating ever since. Today, the airline has not forgotten its entrepreneurial spirit and continues to fly in the face of the ordinary.
Further Information
The GREAT Tech Awards will celebrate and recognise five New York based start-up, selecting one winner from five categories - hardware, education, lifestyle, finance and media - to fly with Virgin Atlantic Airways to London for a high impact business development programme designed by UK Trade & Investment. There will be a special award recognising one British start-up in New York that has successfully demonstrated leadership and transatlantic growth.

The GREAT Tech Awards Advisory Board will consist of some of New York's most influential and experienced leaders in the tech community including: Elizabeth Gould, Senior Producer, Bloomberg TV; Paul Murphy, Senior Vice President, Betaworks; Tarek Pertew, CEO and Founder, Wakefield Media; Shivon Zillis, Vice Chairman, Bloomberg Ventures; and Ziv Navoth, Paragraph/Tech City Investment Organisation.

Nominations for the awards are available here

An Awards Gala to announce the five winners will be held on 2 October 2013.

The GREAT campaign was launched by the Prime Minister in New York in September 2011. It promotes Britain as a world class destination for trade, investment, tourism and education, helping to generate jobs and growth, shape international perceptions of the UK and enhance the UK's global reputation.

UK Trade & Investment is the UK government department that helps UK-based companies succeed in the global economy. We also help overseas companies bring their high-quality investment to the UK's dynamic economy – acknowledged as Europe's best place from which to succeed in global business.

Getty footage of the event is available in HD Resolution and Low Resolution
Contact: Patricia Summers, Vice Consul (Communications), British Consulate General New York: +1 212 745 0251 or patricia.summers@fco.gov.uk
Published 15 May 2013