News story
Pleasure vessel capsizes at Bideford
2 men were recovered from the water this morning after their upturned boat was spotted near Bideford Bar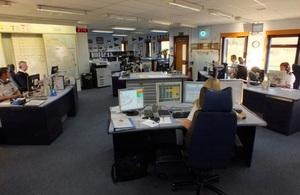 At 11:00 on Friday 18 April Swansea Coastguard was contacted by a vessel which had spotted an upturned 16 foot boat near Bideford Bar. 2 local vessels went to the boat and recovered 2 people from the water. The casualties were transferred to Appledore RNLI lifeboat and brought ashore.
1 of the 2 men, who are described as in their 30's, was confirmed as deceased at the scene. 2 dogs were also recovered from the vessel, 1 of which was dead.
Swansea Coastguard Watch Manager David Hughes says,
Unfortunately both of these men were found in the water without lifejackets on. Lifejackets are useless unless worn because when the unexpected happens there is no time to put one on
-Ends-
Maritime and Coastguard Agency press office
Press enquiries 020381 72222 (Monday to Friday, 9am-5pm)
Outside these hours, for emergency press enquiries only please dial the above number. You will hear a message giving an out of hours pager number.
Published 22 April 2014