World news story
Playing the Moldovans at Football
England vs Moldova World Cup 2014 qualifier at Wembley Stadium in London and travel advice for the upcoming match FC Sheriff vs Tottenham.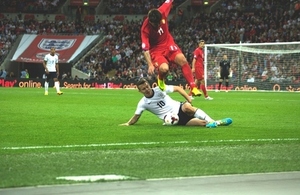 On Friday 6 September, the Republic of Moldova's national football team met the England team at the iconic Wembley Stadium in London. The game was fast-paced and exciting. There were over sixty thousand supporters in the stadium and despite numbering just a few hundred, the Moldovan supporters stood out with their colourful flags and energetic support of their team. Unfortunately, it was not Moldova's night and the final score was 4-0 to England.
Deputy Head of Mission, Amy Sherwood, attended the match and commented that whilst it was a disappointing result for the Moldovan players, everyone remained in good spirits and thanks to the hard work of both the England Football Association, The Football Federation of Moldova, the police from both countries and the British Embassy in Chisinau, visas were obtained in time and the game passed without incident. Likewise, as a result of similar proactive work and careful planning for the Moldova-England match in September last year, there was not one Consular incident, despite the fact that the match saw the biggest ever influx of British visitors to Moldova on record.
The British Embassy in Chisinau is now preparing for another major football match in Moldova. Tottenham Hotspur will play FC Sheriff, in Tiraspol on 24 October. We recommend that those planning to travel to Moldova for the match take the time to read our travel advice.
Published 10 September 2013