News story
Playful pup newest recruit to Irish Guards
An Irish Wolfhound puppy called Domhnall is the new regimental mascot for the 1st Battalion Irish Guards.
To the untrained eye, he is just a rather large, playful puppy. But in a few months, Irish Wolfhound Domhnall will be leading the way as the new regimental mascot for the 1st Battalion Irish Guards.
Based at Mons Barracks in Aldershot, Hampshire, the five-month-old is already training for the moment he dons a special silver collar and a scarlet tunic to join the guardsmen in their ceremonial role at occasions such as the Queen's Birthday Parade.
Domhnall, whose name means 'World Leader' in Gaelic, came to the regiment from Northern Ireland untrained. He and handler Drummer David Steed are on a steep learning curve to make sure they look the part when Domhnall first fulfills the role of mascot at the regiment's grand St Patrick's Day parade in March.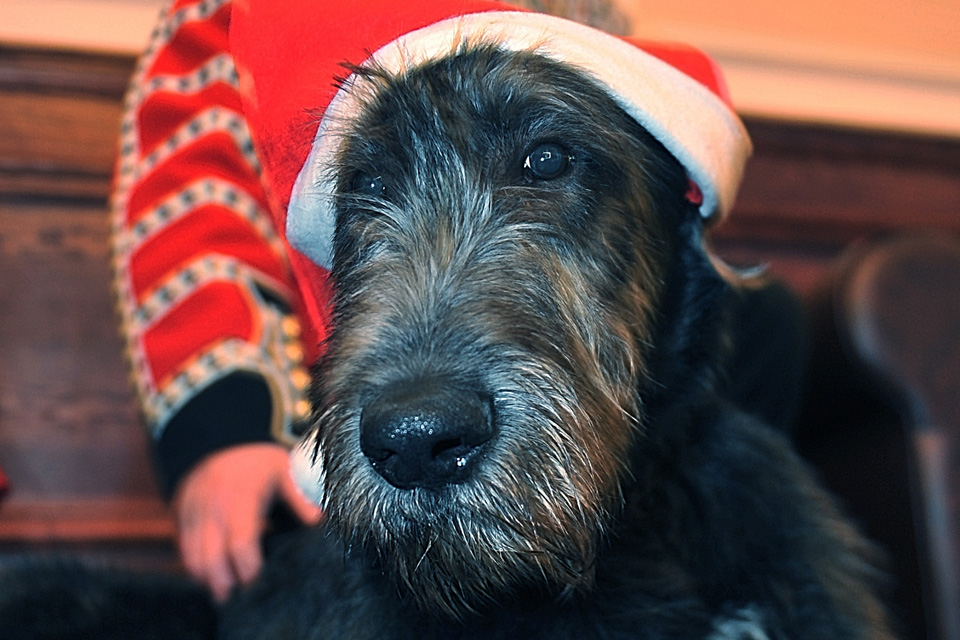 In just 2 months, 'blank canvas' Domhnall has already been housetrained and obedience-trained, Drummer Steed said, with his ceremonial training in London due to start in the near future:
This will involve being with the regimental band, taking him out on Queen's Guard mounts to get him used to the noises and the sights and sounds of London, as well as taking him to Knightsbridge for his horse-friendly training.
Because ceremonial duties are with the Household Cavalry Mounted Regiment, it's making sure that the horses aren't startled by him and vice-versa.
Drummer Steed admitted that training the hyperactive puppy - whose favourite occupation is chasing cyclists - is hard work for both of them:
But this kind of training the two of us are undergoing is something slightly different - it's different from marching down the road carrying a rifle to suddenly having a four-legged friend by your side that you've got to control as well.
Captain Benjamin Irwin-Clark, Adjutant of the 1st Battalion Irish Guards, said an Irish Wolfhound has been the regimental mascot for over a century:
Quite early in our regiment's history, in 1902, the Irish Wolfhound Club of Northern Ireland offered to provide an Irish Wolfhound as the regimental mascot to the Irish Guards.
The regiment accepted, and, ever since then, I think with a few gaps, there has been an Irish Wolfhound as the regimental mascot.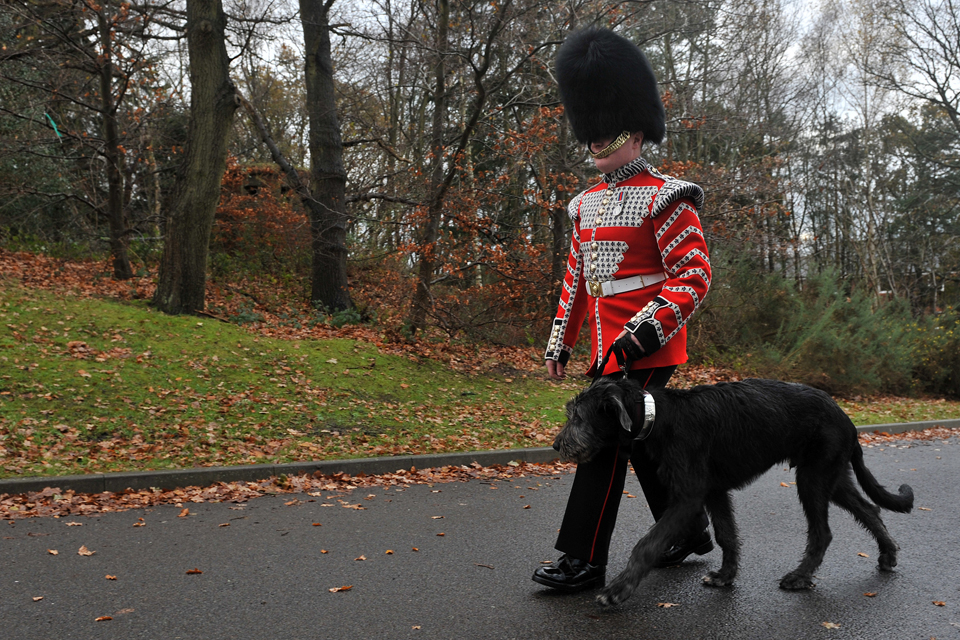 Mascots are traditionally named after Irish chieftains and have a ceremonial role in the regiment, parading with guardsmen during ceremonial duties and state occasions in London.
Captain Irwin-Clark added:
At the moment we're just putting him through a sort of inoculation of the bagpipes, among other things, and I think it's going to take a little time for him to get comfortable with that.
Published 3 January 2013