Plans to recover bell of HMS Hood postponed
A historic attempt to recover the bell of the Second World War battle-cruiser HMS Hood has been postponed due to bad weather.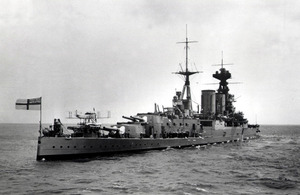 After more than ten days working in the North Atlantic in worsening weather and difficult deep currents, the recovery team on board US philanthropist Paul Allen's yacht Octopus were reluctantly forced to discontinue the operation, but not before commemorative wreaths were laid where the ship sank.
The bell was found in more than 2,800 metres of water in the Denmark Strait, where it has lain since Hood was sunk by the German warship Bismarck on 24 May 1941.
Yesterday, Monday 3 September, from a rain-swept flight deck, crew members of the Octopus laid wreaths in memory of the 1,415 members of the naval service who died, including personnel from Australia, Canada, New Zealand and Poland.
Mr Allen said:
I was honoured to be involved in this project, and I stand ready to help the Royal Navy try again in the future.
Recovering this bell is a way to commemorate the hundreds of brave sailors who were lost at sea and I want to see it through.
Mr Allen has offered to recover the bell without any cost to a grateful Royal Navy and Ministry of Defence.
The Octopus, which is equipped with a remotely-operated vehicle (ROV), is being supported by Blue Water Recoveries Ltd which specialises in the search for and investigations of shipwrecks.
The recovery is fully supported by the HMS Hood Association whose members include veterans who served in the ship before her final mission in 1941 and relatives of those lost with her.
Association President Rear Admiral Philip Wilcocks, whose uncle was among those who died on board Hood, said:
While hugely challenging conditions have precluded a successful recovery of HMS Hood's bell on this occasion, the Hood Association continues to hope that another attempt will be made at some stage in the next year or so.
Our objective remains the provision of a unique memorial in the National Museum of the Royal Navy for this iconic warship and her gallant crew.
We are extremely grateful to Paul Allen, to David Mearns [of Blue Water Recoveries Ltd] and for the professionalism of the captain and crew of the Octopus for their outstanding assistance on this occasion.
A Royal Navy spokesman said:
After days of trying to recover the bell of HMS Hood, poor weather and other issues have made it impossible to successfully retrieve the bell on this trip.
We want to thank philanthropist Paul Allen and the HMS Hood Association for all their support and efforts.
The work that was accomplished on this trip has been invaluable and will put us in an even stronger position for a future mission.
We will be co-ordinating with all parties to see if and when we can make another attempt some time in the future.
David Mearns of Blue Water Recoveries Ltd, who first found one of the two ship's bells in 2001, said:
Despite our limited dive-time we were able to relocate the bell relatively quickly and confirm that the ROV's manipulator arms were able to physically reach it in order to attach recovery tools.
This information will be vitally important in planning a future recovery attempt. The location of the bell, and decoration on its rim, strongly indicates that it is Hood's main bell as we had expected and hoped.
The high definition video showed the bell was in excellent condition and thus another year or so on the seabed will cause it no harm.
If recovered, the bell will form a major feature of a new exhibition dedicated to the 20th and 21st century Navy. It is due to open at the National Museum of the Royal Navy at the Portsmouth Historic Dockyard in 2014, which is a fitting location as HMS Hood was based in Portsmouth.
Professor Dominic Tweddle, Director General of the National Museum, said:
I am deeply grateful to Paul Allen, Blue Water Recoveries and the HMS Hood Association for all their hard work and support in attempting to recover the bell.
A place will be reserved in our new galleries dedicated to the 20th and 21st century Navy; a place that we hope to fill in the future when Hood's bell is successfully recovered.
The wreck of HMS Hood is designated under the Protection of Military Remains Act 1986 and the recovery of the bell has been licensed by the British Government.
Published 4 September 2012