Plans for successor nuclear deterrent submarine announced
Defence Secretary Dr Liam Fox has today announced that approval has been given for the early phase of design of the submarine that will deliver the UK's nuclear deterrent well into the 2060s.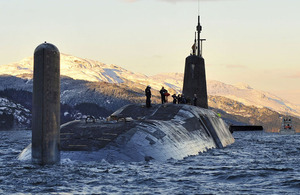 The submarines that will replace the existing Vanguard Class will be powered by a new nuclear propulsion system known as the Pressurised Water Reactor 3. This will deliver a longer lasting and more cost effective capability.
Dr Fox said:
The continuous at sea deterrent is the ultimate guarantee of our national security and for the past 42 years the Royal Navy has operated continuous patrols to ensure just that.
We do not know how the international environment will change over the next 50 years and we cannot dismiss the possibility that a direct nuclear threat to the UK might emerge.
It is simply not the right time to unilaterally give this capability up. This programme of great national importance will also secure the future of one of Britain's major manufacturing sectors.
The approval of this early phase of design - known as Initial Gate - ensures that while the main build decision for the submarines will not be taken until 2016, more detailed design work will be undertaken and long-lead items ordered so that the first submarine is delivered in 2028.
The MOD's Director Submarines, Rear Admiral Simon Lister, said:
While the Pressurised Water Reactor used in our existing submarines is a robust, highly controlled system that meets our stringent safety standards, the new Pressurised Water Reactor 3 will deliver further improvements such as ease of operation and lower costs over its extended life.
Thousands of jobs will be secured across the country as a result of successor nuclear deterrent contracts being placed. Under this next phase, contracts are likely to cost in the region of £3bn. Overall, it is estimated that the submarines will be within the £11-14bn estimate set out in the 2006 White Paper.
As part of the Value for Money Study conducted alongside the Strategic Defence and Security Review, it was concluded that the MOD could demonstrate its commitment to disarmament by reducing the number of warheads and missiles carried on our submarines and this work is already underway.
The Coalition Government is committed to maintaining a minimum credible nuclear deterrent and policy remains that a minimum nuclear deterrent based on the Trident missile delivery system and continuous at sea deterrence is right for the UK.
The Coalition Agreement reflected the desire of the Liberal Democrats to continue to make the case for alternatives. That is why the Defence Secretary has also announced the initiation of a study to be undertaken by the Cabinet Office and overseen by the Minister of State for the Armed Forces to review the costs, feasibility and credibility of alternative systems.
Published 18 May 2011