News story
Planning practice guidance should be simpler
An external review of planning practice guidance has recommended rationalising advice and making it easier to use.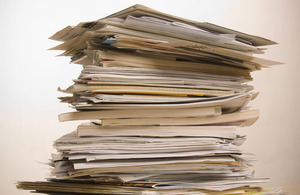 The review group, led by Lord Taylor of Goss Moor, reviewed practice guidance that explains statutory provisions, planning and the planning system but did not review planning policy. They were not tasked with revaluating green belt policy or other countryside protections, which continue to be safeguarded.
The group found that the existing guidance is unwieldy in its current form and recommends that it be shorter but retain key elements, and be more accessible to be useful to everyone using the planning system. They stated that guidance is important to ensuring planning decisions are properly informed but should not place undue burdens on users of the planning system.
The group found that a vast range of materials are being considered guidance, and that 'living documents' intended to be updated on a regular basis had not been amended since publication.
A consultation to consider the group's recommendations was launched today.
Lord Taylor said:
"It is very clear that the old way of doing things is no longer fit for purpose. We have made recommendations for a modern web-based resource that is clear, up-to-date, coherent and easily usable, not just by planners and developers, but the public too."
Nick Boles said:
"I'm very grateful to the group for all the work they have done on this. We will carefully consider the report's recommendations and I would urge other users of the planning system to have their say by responding to the consultation."
The review group consists of Simon Marsh, Andrew Whitaker, Trudi Elliott and Councillor Mike Jones. They are sitting as individuals and not representatives of their respective organisations.
Further information
Matthew Taylor, Lord Taylor of Goss Moor, was author of the Taylor Review of Planning (Rural Economy and Affordable Housing - Living Working Countryside, 2008). He is chairman of the National Housing Federation which represents 1,100 housing associations across England, chairman of the St Austell Eco-Town Strategic Partnership and was, until recently, founder Chair of the Rural Coalition (representing 14 national organisations interested in the sustainable development of rural communities). He was MP for Truro and St Austell for 24 years from 1987, until he stood down at the 2010 general election.
Simon Marsh from the Royal Society for the Protection of Birds, Andrew Whitaker from the Home Builders Federation, Trudi Elliott from the Royal Town Planning Institute and Councillor Mike Jones, Leader of Cheshire West and Chester Council are sitting independently and not representing their organisations.
Published 21 December 2012