Press release
Planned roadworks in the East of England: weekly summary for Monday 6 to Sunday 12 July 2015
The following information summarises the work being carried out this coming week. It is correct as of the above date but could be subject to change due to weather conditions or unforeseen circumstances.
This news article was withdrawn on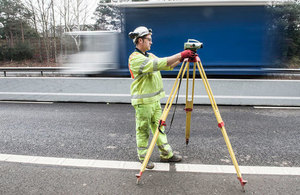 New work
A14 southbound Alconbury to Spittals Interchange, Huntingdon: resurfacing
Work to resurface the southbound A14 between Alconbury and Spittals Interchange will take place overnight for four weeks from 7 July. The work is being carried out between 8pm and 6am and is planned for completion by early August. During the work the southbound A14 will be closed overnight between Alconbury and Spittals Interchange. A clearly signposted diversion will be in place directing road users to follow the A1 southbound and the A14 eastbound to re-join the A14.
Ongoing work
A1/A47 Wansford, Peterborough: pinch point junction improvements
We are making improvements to the junction where the A1 meets the A47 at Wansford near Peterborough, Cambridgeshire, by installing traffic signals on the existing roundabout and widening local approach roads. The main work has been completed but we are now carrying out finishing off work, including completing the central reserve barrier and removing signs, which will continue overnight during the week starting 6 July. While the work is taking place, there will be lane closures and temporary two-way traffic lights on the eastbound A47 between the two roundabouts at Wansford Interchange from 8pm to 6am Monday to Friday only.
For more information, visit the road project pages.
A5-M1 Link (Dunstable Northern Bypass), Bedfordshire: major improvements
We are building a new 2.9-mile, two-lane dual carriageway running from north of Dunstable and joining the M1 at a new junction 11a, south of Chalton. Advance works started on site in May 2014 and main construction work is progressing.
Construction of the new junction started on 17 June. While the new junction is being built, lane 3 on the M1 will be closed between junctions 11 and 12 in both directions. Three lanes will remain open, with traffic running on the hard shoulder and lanes 1 and 2. The roadworks, including safety barriers, signs, CCTV and average speed cameras, will stay in place throughout the junction construction work, which will be carried out in phases and should be finished in spring 2017 as the scheme nears completion.
On Saturday 4 July from 5am until 6pm the A5120 will be closed from the junction of Tebworth Road at the top of Lords Hill to the junction of Thorn Road at the bottom of Lords Hill for construction of a new culvert, a fully signed diversion will be in place
Work on the major improvement is due to complete in spring 2017. For more information, visit the road project pages.
A12 J31-33, Suffolk: improvements
We have substantially completed the work to improve the road network on the A12 between junction 31 (Four Sisters Interchange) and junction 33 (Copdock Interchange). We have fully resurfaced the carriageway, renewed road markings, repaired barriers and the drainage systems and improved lighting within these works. There is some finishing off work with a large sign on the A12 and will be completed under lane closures, from Monday 6 July to Wednesday 8 July inclusive we will need to close one lane northbound between junctions 31 and 33.
A12 J11-12, Brentwood, Essex: improvements
We are in the second phase of works to improve the road network on the A12 in both directions between junction 11 (for M25) and junction 12 (for A1023 Chelmsford Road). We are resurfacing the carriageway and renewing road markings, repairing barriers and drainage systems and improving lighting within these works. During the week of Monday 6 July we will need to close the southbound carriageway overnight from 8pm to 6am between junctions 12 and 11 and we will also close one lane northbound. A clearly signposted diversion will be in place directing traffic to leave the A12 at junction 12 and travel via the B1002 and A1023 to rejoin the A12 at junction 11.
A14 Girton to Histon (junctions 31 to 32): lane gain scheme
Work to improve slip roads onto the M11 and A14 and to add an additional lane on the A14 in each direction between Girton and Histon was completed on Friday 10 April, with all three lanes in both directions now open with a reduced speed limit of 50mph.
We are carrying out some finishing off works, which include landscaping, street lighting and fully resurfacing the road between junctions 31 and 32.
On Saturday 4 and Sunday 5 July there will be lane closures between junctions 31-32 in both directions.
Between Monday 6 and Friday 10 July the eastbound A14 between junctions 31 and 32 and the westbound entry slip roads at both junctions 36 and 32 will be closed overnight between 8pm and 6am.
For further details visit the road project pages.
A14 Huntingdon: barrier replacement
Work to replace sections of the central reservation barrier is being carried out on the A14 between Brampton Hut and the Spittals Interchange near Huntingdon. Works started Monday 9 February and are due to finish in July. We are working between 8pm and 6am and will use lane 2 closures and a temporary 40mph speed limit 24 hours a day for safety reasons.
A138 Chelmer Village, Chelmsford, Essex: Chelmer Viaduct replacement
Work to rebuild the viaduct at Chelmer on the A138 started on 17 March 2015. The major improvement work on the Chelmer Viaduct in Chelmsford will take approximately 18 months to complete. Construction of the access road for the viaduct construction traffic and piling platforms for the pier construction has now started. All site work will be carried out off-line and daytime traffic will not be affected. For further details of the scheme, visit the road project pages.
Highways England is working with the industry and road users to reduce the risks of working on the roads. For the safety of road workers and all road users, when you are approaching roadworks:
keep within the speed limit – it is there for your safety.
get into the correct lane in good time – don't keep switching.
concentrate on the road ahead, not the roadworks.
be alert for works' traffic leaving or entering roadworks.
keep a safe distance – there could be queues in front.
observe all signs – they are there to help you.
General enquiries
Members of the public should contact the Highways England customer contact centre on 0300 123 5000.
Media enquiries
Journalists should contact the Highways England press office on 0844 693 1448 and use the menu to speak to the most appropriate press officer.
Published 3 July 2015