Press release
Planned road works in the North West: summary for Monday 12 to Sunday 18 September 2016
Planned new and ongoing road improvements over the coming week.
This news article was withdrawn on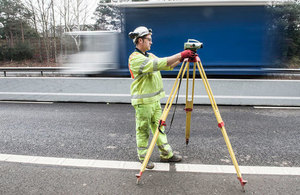 The following summary of planned new and ongoing road improvements over the coming week is correct as of Friday 9 September and could be subject to change due to weather conditions or unforeseen circumstances. All our improvement work is carried out with the aim of causing as little disruption as possible
M56 Weaver Viaduct repairs and resurfacing
Work started on Monday 15 August on a £1.5 million 8 week project to repair and resurface Weaver Viaduct which helps carry the M56 between junction 12 and junction 14. The work involves overnight lane and hard shoulder closures – with a handful of overnight carriageway closures in late September and October.
M6 junctions 16 to 19: Cheshire smart motorway
Work is underway for the smart motorway upgrade – typically with 1 or 2 lanes closed overnight between junctions in both directions and/or mobile lane closures along short sections of carriageway. More information about the project is available on the M6 project website.
M6 junction 34 Lancaster
Lancashire County Council work off the motorway on the Heysham Link project requires a lane 1 and hard shoulder closure in both directions on the motorway around junction 34. To allow for the installation of a superspan gantry south of junction 34 there will be a full overnight – 10pm to 8am - closure of the motorway (both southbound and northbound carriageways) between junction 33 and junction 34 on Saturday 10 September. More information is available on the Lancashire County Council website.
M6 junction 39 Shap to 38 Tebay
A combination of resurfacing, bridge joint replacement and fencing renewal on the M6 southbound started on Monday 15 August for about 7 weeks. This will involve a temporary 50mph speed limit for the duration of the works and lane and slip road closures. Most of the work – between 8pm and 6am at night - will be done with lane closures but some slip roads will need to be closed overnight occasionally.
M60 junction 8 Sale to junction 20 Rochdale
A major scheme is taking place to cut congestion and improve journey times on parts of the M60 and the M62 in Greater Manchester. The scheme involves overnight slip road and carriageway closures with a 50mph limit in place for the safety of workers and drivers. A significant programme of temporary night closures has been programmed to fit gantries with wiring and signs, which will take the project to May 2017. These are detailed on the journey impact tab of the project page and updated weekly, subject to weather conditions.
Manchester smart motorway closures this week as follows:
M60 junction 9 to junction 8 Anti-Clockwise
Full closure Saturday 17 September 10pm to 6am – gantry works.
M60 junction 9 to junction 10 Clockwise
Full closure Sunday 18 September 10pm to 6am – Gantry works
See the M60 project page for more details.
The project is due to be completed in autumn 2017.
M602 Clarendon Bridge
Work to refurbish this footbridge over the M602 near Eccles started on Tuesday (30 August) and is expected to take around 12 weeks. The footbridge will be closed – with a signed pedestrian diversion place – throughout the project. There will also be occasional overnight – 9pm to 5am – M602 carriageway closures with signed, short diversions in place.
A556 Knutsford to Bowdon
A £192 million project is being carried out to create a new dual carriageway linking the M56 to the M6 in Cheshire. Forthcoming closures:
The exit slip road from the eastbound M56 at junction 7 is closed for work to provide new link roads and a new roundabout at Bowdon.
Chapel Lane will be closed around the clock between the existing A556 Chester Road and Hulse Heath Lane between Monday (12 September) and Friday (16 September).
M56 junction 7 eastbound entry slip road and westbound exit slip road closed nightly between Friday 16 September and Saturday 24 September.
More information is available on the A556 project website.
A56 Rising Bridge roundabout
Work has started to improve safety and reduce delays at Rising Bridge Roundabout near Haslingden. Work will be carried out daily between 8pm and 6am, and will involve total closure of the A56 between A680 Blackburn Road and A679 Burnley Road. Single lane closures to Rising Bridge roundabout will also be required and some full closures will be needed at Rising Bridge roundabout, during which times fully signed diversion routes will be in place. An overnight roundabout closure is scheduled to take place on Sunday (11 September). With the exception of the embankment and surfacing, the works is expected to finish in early October.
A590 Brettargh Holt to Jct 36
Resurfacing works are being undertaken from 12 September for one week which will involve full carriageway and slip road closures overnight between 2000-0600hrs.
A590 Ulverston
Overnight traffic signals will be in place on some Saturday nights (10pm to 10am) from 13 August into October whilst painting work is being undertaken to the bridges at Red Syke and Dykelands. Lane 1 of the eastbound carriageway just west of Greenodd roundabout is currently closed until further notice while we undertake a survey of the embankment.
A595 Blackbeck
Bridge repairs south of Blackbeck roundabout, between Egremont and Calder Bridge, start on Monday, 12 September for 6 weeks. Work will take place around the clock with a temporary speed limit and temporary traffic lights in place. The traffic lights will be staffed at key times.
A66 Brougham to Center Parcs
Overnight traffic signals will be in place in order to complete the road markings following resurfacing will commence on 13 September approx.1 week. A 40mph speed limit will be in place throughout the works with 10mph during convoying.
A66 Keswick
A 4 week programme of overnight work to resurface sections of the A66 between Crosthwaite roundabout and the bridge over the River Greta High Briery interchange with the A591 will start on Monday (12 September). Most of the resurfacing will be done between 8pm and 6am each night – with a temporary 40mph speed limit and often with temporary traffic lights being used to manage traffic through the roadworks. Both the eastbound and westbound carriageways will also be closed for a Saturday night each with diversions in place. The dates for these closures will be publicised nearer the time.
General enquiries
Members of the public should contact the Highways England customer contact centre on 0300 123 5000.
Media enquiries
Journalists should contact the Highways England press office on 0844 693 1448 and use the menu to speak to the most appropriate press officer.
Published 9 September 2016