Piracy ransoms task force holds inaugural meeting
The international task force announced by the PM at the London conference on Somalia to look at the issue of ransom payments in piracy cases met for the first time on 30 May in London.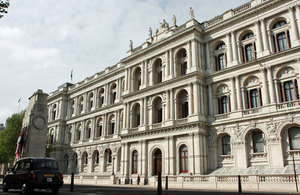 At its inaugural meeting, members of the task force examined options for preventing the payment of ransoms. Discussions were informed by an independent analysis of the options prepared by Chatham House and by views presented by representatives from industry and the Somali diaspora.
The taskforce is made up of 14 countries representing a range of Flag States, seafarer nations, countries with large merchant navies and those active in the Contact Group on Piracy off the Coast of Somalia. It includes Australia, Denmark, France, Italy, Liberia, Malaysia, Norway, Panama, the Philippines, Spain, Ukraine, the UAE, the USA, and the UK.
The establishment of the task force reflects concerns around ransom payments fuelling the piracy business model and incentivising the criminal activity that is putting the lives of seafarers at risk. It will explore a wide range of options for avoiding, reducing or preventing the payment of piracy ransoms.
The first three meetings will consider at options for preventing the payment of ransoms; options for avoiding the payment of ransoms/alternative strategies to paying ransoms; and options for reducing the size/frequency of ransom payments. After considering the range of views on these issues, the task force will recommend a set of policy options that will be presented to the wider international community to take forward.
Published 1 June 2012