Press release
Pilot schemes to help people on sickness benefits back to work
People on sickness benefits will be required to have regular meetings with healthcare professionals to help them with their barriers to work.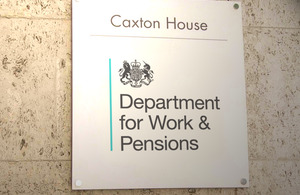 People on sickness benefits will be required to have regular meetings with healthcare professionals to help them address their barriers to work – or face losing their benefits – in a two-year pilot scheme in central England which begins in November.
Around 3,000 people in the work-related activity group for Employment and Support Allowance (ESA) living in the Black Country, Derbyshire, Leicestershire, Northamptonshire, Lincolnshire, Nottinghamshire, Rutland, Staffordshire and Shropshire will take part in the scheme.
People involved in the pilot – who have all been assessed as being able to work at some point in the future – will have regular appointments with healthcare professionals as a condition of receiving their benefit, to focus on helping them move closer to being able to get a job.
The pilot will compare the help given by healthcare professionals to 2 other pilot schemes offering employment-focussed support to see which is most effective at helping people off sickness benefits and into work.
One in southern England (Devon, Cornwall and Somerset, Surrey and Sussex, Thames Valley, Greater Wessex and Gloucestershire and West of England) will give enhanced support from Jobcentre Plus. The other in North East England (Durham and Tees Valley, Northumberland, Tyne and Wear and North East Yorkshire and the Humber) will see Work Programme providers increasing the help they give to people on sickness benefits.
Employment Minister Esther McVey said:
It's really important we give people who are disabled or have a health condition the support they need to get into work if they are able. Traditionally, this help has tended to be work-related, but this pilot will look at whether a more holistic approach is more successful in helping people to manage their conditions and so break down their barriers to work.
The regular discussions with healthcare professionals – which will be provided by Ingeus UK – will not replace someone's GP, but can promote health support and help a claimant to re-engage with their GP if they are struggling to adapt to their condition. They will also signpost claimants to activities and information to help them manage their condition to improve their readiness for getting a job, and work with local services to provide a holistic approach to health interventions.
More information
The pilots will begin in November 2013 and will run until August 2016. They will involve people on ESA in the work-related activity group who it is hoped would be able to return to work in 18 to 24 month's time. People will be selected to take part in the trial on a random basis.
The Health Care Professional-led pilot uses funding from the European Social Fund.
Ingeus UK Ltd have been awarded the contract to provide healthcare professionals for the pilot following an open tendering process.
In total, around 8,300 people are expected to take part in the 3 pilots.
Press Office
Caxton House
Tothill Street
London
SW1H 9NA
London Press Office (national media and London area enquiries only – not questions about personal claims) 020 3267 5144
Out-of-hours (journalists only) 076 59 108 883
England and Wales (local media enquiries) 029 20 586 then 097 or 098 or 099
Scotland (local media enquiries) 0131 310 1122
Media enquiries for this press release – 0203 267 5161
Follow DWP on:
Published 4 November 2013