News story
Pie and mash shop goes down in history
A Walthamstow Pie and Mash shop has been listed Grade II by Heritage Minister Ed Vaizey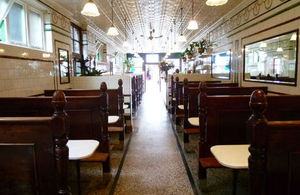 L Manze Eel, Pie and Mash Shop on Walthamstow High Street was acquired in 1929 by Luigi Manze who employed the architect Herbert Wright to rebuild it in its present form. The Manze family continued to run the shop until 1970.
The shop has been listed due to both its design and historical interest. It embodies the standard features of the London eel, pie and mash shop, from the gilt lettering on the shop-front to the white-tiled interior with mirrors, seating booths and marble counters. And historically illustrates a type of establishment and cuisine that was a staple of early twentieth century working-class life.
Ed Vaizey said:
Pie and Mash shops are as intrinsically linked to London as black cabs and beefeaters. L Manze's in Walthamstow is a unique part of the capital's heritage, and is as relevant and popular now as it was when it first opened in the 1920s. It clearly deserves to be given Grade II listed status.
Roger Bowdler, Designation Director for English Heritage said:
Eel, pie and mash shops are a unique feature of the London scene, and represent some of our oldest traditions of fast food. This 1920s example with its beautifully preserved interior is among the best of an increasingly rare kind, and strongly deserves to be listed.
Further information
Published 30 October 2013