World news story
Physionet UK assist Spinal Injuries Association Fiji
British Charity Physionet UK assist with mobility, assistive and physio equipment for persons with spinal injuries in Fiji.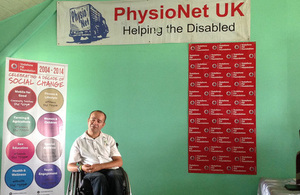 British Charity Physionet UK has been assisting the Spinal Injuries Association of Fiji with mobility, assistive and physio equipment for the past 5 years.
Yesterday, which was also the International Day for Persons with Disabilities, High Commissioner, Roderick Drummond handed over Physionet UK's 6th container of equipment to Spinal Injuries Association Fiji. Physionet UK was founded in 2005 by philanthropist , Peter Thompson.
When handing over the equipment, Mr Drummond paid tribute to the hard work put in by the Spinal Injuries Association which works hard to carefully assess the individual needs of people to ensure that they get the right equipment to help them in their daily lives as well as provide training and support.
The High Commissioner said this is a shining example of a valuable partnership between the UK and Fiji, based on people-to-people contacts, hard work and shared values.Read the High Commissioner's full speech High Commissioner's Speech at the Physionet UK Donation to Spinal Injuries Association Fiji (MS Word Document, 12.1KB)
Published 4 December 2014