News story
Philip Dunne visits new aircraft at RAF Northolt
The Minister for Defence Equipment, Support and Technology paid a visit to RAF Northolt to see 2 new short-medium-range transport aircraft.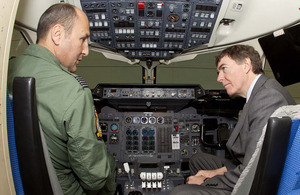 The BAe 146 Mk3 aircraft have added a new capability to 32 (The Royal) Squadron, which is known for its command support air transport role.
And, as the squadron already has 2 BAe 146 Mk2 aircraft, this means that a prolonged period of conversion training will not be required and the new aircraft can enter service almost immediately.
Known as 'QC' or 'Quick Change' aircraft, the Mk3 can quickly be configured to carry passengers or freight, or a combination of both. The first of the 2 aircraft will enter service in Afghanistan next week, with the second aircraft following by the first week in May.
Mr Dunne said:
As part of our requirements for Future Force 2020 we are upgrading and developing a world-class military air transport fleet for the Royal Air Force.
A modern air transport force allows the RAF to deliver personnel and materiel around the world, swiftly and flexibly. The UK-built BAe 146 QC aircraft, which are scheduled to deploy later this month, are a further addition to the RAF's transport capability.
These aircraft can be quickly converted from a cargo role for over 10 tonnes of freight to an airliner for nearly 100 passengers. The aircraft can also operate from short runways, making them very flexible and adaptable for RAF support to current operations.
Wing Commander Jon Beck, Officer Commanding 32 (The Royal) Squadron, said:
I am delighted that these 2 very capable aircraft have been added to the squadron's inventory. They will provide a welcome boost to our existing capability to support operations in Afghanistan and ensure that vital equipment and personnel get where they need to be quickly and safely.
Following the visit to 32 (The Royal) Squadron, Mr Dunne visited the headquarters of the British Forces Post Office which is also based at RAF Northolt.
In a new state-of-the-art sorting facility, completed in 2008, BFPO staff ensure that personnel serving at locations around the world and on board Royal Navy ships receive their post promptly.
Published 19 April 2013