News story
PHE provides MERS warning posters to airports
Posters featuring advice for travellers to and from the Middle East have been distributed to UK airports and airlines.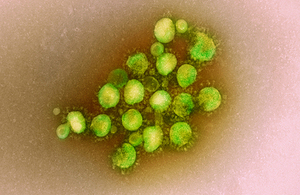 Public Health England (PHE) is providing two posters to major UK airports to warn about the risks of Middle East respiratory syndrome coronavirus (MERS-CoV). The first poster gives general advice for travellers to the Middle East, while the second issues advice for travellers returning to the UK.
MERS-CoV is a new type of coronavirus, first identified in a Middle Eastern citizen in 2012. Although cases continue to be reported from the Middle East, no new cases of MERS-CoV have been detected in the UK since the cases linked to the Middle East in February 2013.
PHE scientists recently met to review the current risk assessment and concluded the risk to UK residents and travellers to the Middle East remains very low. Travellers, particularly people with underlying or chronic medical conditions, are advised to avoid contact with camels in the Middle East, avoid drinking raw camel milk and handling raw camel meat, and adhere to good general food and hand hygiene measures.
After diagnosing one of the first cases of MERS-CoV in the world at the health protection laboratories in Colindale in September 2012, PHE remains at the forefront of providing public health advice and information on MERS-CoV.
Professor Nick Phin, Head of Respiratory Diseases for PHE, said:
There is growing evidence of the possible role of camels in transmitting MERS-CoV to humans. We advise travellers, particularly those with underlying or chronic medical conditions, to avoid contact with camels in the Middle East and practice good hand and respiratory hygiene to reduce the risk of respiratory illnesses.

Healthcare professionals are advised to remain vigilant for severe unexplained respiratory illness occurring in anyone who has recently travelled in the Middle East, as well as any unexplained cluster of severe respiratory illness or healthcare worker with unexplained severe respiratory illness.

PHE will continue to provide advice on infection control, urgent diagnostic investigation and identification of contacts of suspected cases who may need to be followed up to check on their health.
Dr Brian McCloskey, Director of Global Health at PHE, said:
The recent reports of cases in travellers visiting the region and the rise in global cases we've seen is concerning, and we will continue to monitor the global situation and adjust our risk assessment as appropriate.

The risk of UK residents contracting infection in the UK remains very low. The risk to UK residents travelling to Middle Eastern countries may be slightly higher than within the UK, but is still very low.

PHE will maintain its current enhanced levels of surveillance and continue to liaise with WHO and ECDC colleagues to ensure we have the best available information so that our advice is accurate and up to date.
Contact: infections-pressoffice@phe.gov.uk
Public Health England's mission is to protect and improve the nation's health and to address inequalities through working with national and local government, the NHS, industry and the voluntary and community sector. PHE is an operationally autonomous executive agency of the Department of Health.
www.gov.uk/phe Follow us on Twitter @PHE_uk
Published 30 May 2014