News story
PHE helps lead vision for a sustainable future
With NHS England and the Local Government Association, PHE is helping launch a vision to address sustainability challenges in health and care.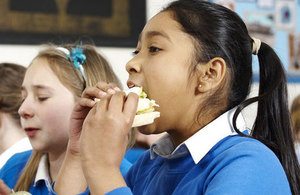 The Sustainable Development Strategy, presented today by Public Health England Chief Executive Duncan Selbie, NHS England Chief Executive Sir David Nicholson and others, shows how the health and care system can join forces to adapt for a more sustainable future while potentially saving millions of pounds.
Reducing carbon emissions, protecting natural resources, preparing communities for severe weather events and promoting healthy lifestyles and environments figure heavily in the plan.
The strategy is the first time a single plan has looked at integrating sustainable practices across the entire health and care system, including the NHS, public health and social care. The launch today follows a year-long consultation process on the draft strategy.
Duncan Selbie, Chief Executive of PHE, said:
We are delighted to be an integral part of this health and care system-wide approach to sustainable development. PHE will play a particular role in collecting, synthesising and sharing information about the health impacts of environmental and social change and the most effective actions that can be taken to address these. It is only through working in partnership within and across our organisations, and with our communities, that we will unleash the innovation and practical 'can do' needed to genuinely improve health and wellbeing.
The aim is also to reduce the negative impact on the environment by managing energy use and reducing waste by switching to other sources of energy, improving recycling facilities or using fewer disposable items.
Organisations are being encouraged to develop a local strategy, measure their success with regular reporting, and evaluate their progress as well as joining up with local Health and Well-Being Boards.
NHS England and Public Health England fund the Sustainable Development Unit to monitor key success measures identified for 2020.
Published 29 January 2014