Press release
PHE cold weather plan helps you protect your health
With winter looming think now how cold weather could affect you, and those around you: PHE publishes this year's cold weather plan today.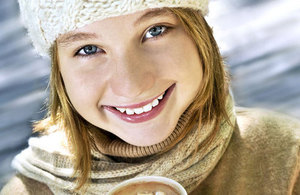 Practical things we can all do to minimise the risk to our health this winter, are spelled out today in the 2014 Cold Weather Plan for England.
It is estimated that every year there are more than 25,000 excess winter deaths in England, many of which are preventable. The plan, which is published by Public Health England, the Local Government Association and NHS England, offers advice that people can take, before and during the winter, to reduce the risks to health.
The plan urges everyone to consider how their homes can be better insulated and kept warm, to make sure heating systems are routinely checked and as flu circulates during the winter, encourages those eligible for a flu jab, to have it.
Dr Angie Bone, Head of Extreme Events and Health Protection at Public Health England, said:
Every winter thousands of people die from a range of health conditions many of which can be linked to cold weather. The sad thing is many of these deaths are preventable through relatively simple measures, many of which are best done before the really cold weather sets in.

Of course much of what we can all do is common sense, such as making our homes as energy efficient as we can and putting the heating on, dressing warmly and keeping active when it's cold.

But some people find these things difficult to do and that's why we're urging everyone to think of someone they know who may be affected by the cold, like an elderly relative, friend or neighbour, someone not in the best of health or with very young children, to take the time to think about what you can do to help protect their health this winter.

Older people, those with health conditions, even if they are well managed, and pregnant women are at much greater risk of becoming seriously unwell if they catch flu and sadly, many end up in hospital. The best way these people can protect themselves from flu is to take up the offer of free vaccination from their GP.

For pre-school children a nasal spray is available that is quick, easy and painless and will help prevent them catching flu and the also help to reduce the spread of flu to those who are more vulnerable.

These simple things can make a big difference to reducing health impacts this winter.
Jane Ellison, Public Health Minister, said:
The NHS is well prepared for winter, but whether it's getting a flu jab or staying warm at home, we want to help people stay healthy and avoid unnecessary hospital visits.
Cllr Izzi Seccombe, Chair of the LGA's Community Wellbeing Board said:
Soon the cold weather will be setting in and so it's important to be ahead of the curve and start planning now. We need everyone in our communities to be on the look-out for signs that something might be wrong. Whether it be milk bottles left outside, newspapers stuck in the letterbox or curtains drawn all day, any sort of unusual activity could be a sign that something is wrong and that someone is in need of help.

Council teams will soon be on standby to help with everything from carrying out emergency household repairs like defrosting pipes and fixing frozen boilers to delivering hot meals and portable heaters, and will be checking in on elderly and vulnerable residents to make sure they are okay.
The PHE Winter Health Watch website will also launch early November and brings together PHE's weekly monitoring of winter-related illnesses and deaths.
Follow #winterready (for message alert levels 0 and 1) and #weatheraware (alert levels 2 to 4) on Twitter for winter health advice.
Ends
Notes to editors
Top tips for keeping warm and well this winter include:
heat your home to at least 18C to minimise the risk to health, especially if you're 65 and over or have health problems; if heating the whole house is a problem heat the living room during the day and your bedroom just before you go to sleep
have your flu jab to protect yourself and others from influenza, if in an eligible group for vaccination
look out for friends, relatives and neighbours who may be vulnerable to the cold
stay tuned to the weather forecast and plan ahead with supplies
have regular hot meals and drinks throughout the day and keep active to help stay warm
get financial support to make your home more energy efficient, improve your heating or help with bills
have your heating and cooking appliances checked regularly
wear a few layers of thin clothing rather than one thick layer, and when you need to go outside wear shoes with slip resistant, good grip soles
The Cold Weather Plan for England is updated each year to provide health and social care services with emergency planning and preparedness guidance in the event of severe weather and periods of cold weather. Prior to 2013, the Cold Weather Plan for England was published by the Department of Health. Read the Cold weather plan for England 2014
See the Cold Weather Alert system from the Met Office.
See more information on the seasonal flu vaccine and eligible groups from NHS Choices.
Public Health England's mission is to protect and improve the nation's health and to address inequalities through working with national and local government, the NHS, industry and the voluntary and community sector. PHE is an operationally autonomous executive agency of the Department of Health.
Follow us on Twitter @PHE_uk
Public Health England press office
Skipton House, 80 London Road, London, SE1 6LH
Published 21 October 2014