Phantom guardian returns home to Wattisham
RAF Brampton's long-serving Gate Guardian, Phantom XT914, has taken its final journey home to Wattisham Flying Station in Suffolk.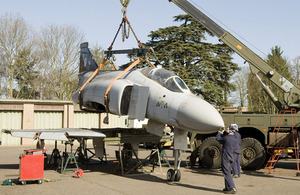 The former fighter, ground attack and reconnaissance aircraft began its journey to Wattisham Flying Station on Thursday, 8 March, where it was stationed before being decommissioned in 1992.
The Joint Aircraft Recovery and Transportation Squadron were charged with the careful disassembly of the aircraft in preparation for the move to Wattisham. The team have spent just over a month preparing the aircraft for the 63-mile (101km) trip.
At around 1500hrs on Thursday the Phantom's fuselage was carefully craned onto the lorry that would transport it back to its old home of Wattisham Flying Station - because it is such a large aircraft it had to be transported as separate pieces.
The team removed the wings and external fuel tanks, among other parts, so that the large aircraft would fit safely onto the low loader. This was not an easy task as the team had to carefully remove an estimated 3,000 rivets, ensuring that the aircraft could be put back together easily at the other end.
The Wattisham Heritage Museum will fully refurbish the Phantom and put the aircraft on display as a permanent part of its collection.
The Phantom XT914 was immortalised in Wattisham's history in 1992 when it was chosen to be the display aircraft for the farewell displays that were performed at many different RAF airfields around the country.
Squadron Leader Paul Tuite, Officer Commanding Operations and Training at RAF Brampton Wyton Henlow, who is project officer for the Phantom's move to Wattisham, said:
Although it's a sad day for RAF Brampton, the Phantom XT914 is returning to its home unit to be lovingly refurbished. The Phantom has been a focal point for both RAF Brampton personnel and the local community. Its departure really does mark the start of the station's closure.
RAF Brampton's eventual closure is scheduled for the end of 2013. The Phantom XT914, however, will outlive the station it has strikingly 'guarded' by returning home to Wattisham where it was previously flown by No 74 (Tiger) and No 56 (Firebirds) Squadrons up until it was retired from service two decades ago.
Published 13 March 2012