Peter Connelly Serious Case Review reports published
Children's minister Tim Loughton comments on the publication of the two serious case review (SCR) reports into the death of Peter Connelly.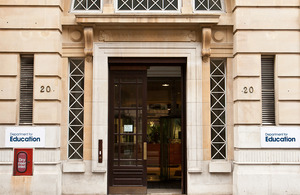 The Government is today fulfilling its commitment to publish the two Serious Case Review (SCR) overview reports into the tragic death of Peter Connelly, in order to restore public confidence and improve transparency in the child protection system.
The SCR reports have both been carefully and appropriately redacted and anonymised to protect the privacy and welfare of vulnerable children and their families.
Children's Minister Tim Loughton wants today's publication of the Peter Connelly reports to help enable
genuine lessons to be learned
transparency, to restore public confidence, and
the identification of everyone's roles and shared responsibilities.
Children's Minister Tim Loughton said:
Today everyone can see and understand the events that led to Peter Connelly's horrific death. The publication of both Peter Connelly reports means that across the country and across the child protection profession, full lessons can be learned and widely applied.
The Government's commitment to publish full SCR overview reports has always been about transparency so that vital information is made available, so that agencies can be held to account and lessons properly learned. The reports have details of the events which are shocking to read but are necessary to publish in order to learn from them.
The publication of these reports is not about apportioning blame but about allowing professionals to understand fully what happens in each case, and most importantly, what needs to change in order to reduce the risk of such tragedies happening in the future. I welcome the progress that Haringey and local partners have made over the past two years and it is essential that this progress continues.
We have taken a great deal of care to prepare these sensitive and complex reports for publication in order to protect the privacy and welfare of vulnerable children and their families.
After two years of high-profile reporting, I want today's publication of the Peter Connelly reports to bring some form of closure, so everyone - family and professionals - involved in this tragic case has the chance to move on.
Alongside the launch of the Munro Review on 10 June, Children's Minister Tim Loughton committed to publishing - by applying the new criteria of publication - five specific Serious Case Reviews, including the two Peter Connelly reports, with identifying details removed. The minister also confirmed, as stated in the Coalition Government agreement, that the overview reports and executive summaries of all new SCRs initiated from 10 June 2010 should be published.
Chair of Haringey Safeguarding Children's Board, Graham Badman, said:
The tragic death of Peter Connelly has quite properly caused a fundamental re-appraisal of child protection services in Haringey and throughout the country. If Peter is to have a legacy, it is that other children are now safer as a consequence of the honest analysis of events that led to his death, and the embedding in practice of the lessons learned.
Services in Haringey have improved dramatically but the LSCB will continue to be vigilant in both auditing and seeking improvement in the management and conduct of all services charged with child protection. The publication of the full Serious Case Review marks an end point but also demonstrates the integrity and willingness to change of all services that contributed.
Haringey's Cabinet Member for Children & Young People, Cllr Lorna Reith, said:
We have accepted that things went badly wrong with our child protection services back in 2007 and have apologised unreservedly for our shortcomings and mistakes. Baby Peter's death could and should have been prevented.
Since publication of the Serious Case Reviews, whose recommendations we have implemented in full, it has been our top priority to bring about substantial change and improvement to children's safeguarding in the borough.
The recent unannounced inspection by Ofsted - which took place in August and reported in September - was tangible proof that significant progress has been made, but it is our responsibility to remain vigilant in Baby Peter's memory and never stop improving.
The SCR overview reports relating to Peter Connelly were written by independent authors commissioned by the Haringey Local Safeguarding Children Board. The only editing undertaken by the Department prior to publication is the redaction of information that it is not appropriate to put into the public domain. An explanation of the redactions is set out in the beginning of each report.
Notes to editors
1. The first SCR was commissioned in August 2007 by Haringey LSCB, under the chairmanship of Sharon Shoesmith, and the executive summary was published by the LSCB in November 2008. This SCR was evaluated as 'inadequate' by Ofsted. 2. In December 2008, the then Secretary of State for Children, Schools and Families directed the appointment of a new LSCB Chair, Graham Badman, and asked the Haringey LSCB to begin a new SCR on the case of Peter Connelly. This second SCR was evaluated as 'good' by Ofsted and the executive summary was published in May 2009. 3. The Coalition Government confirmed on 10 June 2010 its intention that the previously unpublished overview reports (together with the executive summary) of all of these SCRs would be published, appropriately redacted and anonymised. Birmingham published the SCR overview report relating to Khyra Ishaq on 27 July 2010. 4. The process of redacting the overview reports has involved: * considering the welfare of children involved in the case * comparing the executive summary already in the public domain, with the corresponding overview report; no information that is included in either of the executive summaries has been redacted * considering the extent to which information in the overview reports is capable of being used to identify living individuals whose identity is not already common knowledge * considering whether information that is by its nature sensitive, personal data under the Data Protection Act 1998 (for example, because it is information about a person's physical or mental health or condition, his/her sexual life, or the commission or alleged commission by him/her of an offence) is likely to have already been made public (for example, as part of the criminal trials), and whether its inclusion in the reports is necessary to give a complete picture of events * redacting personal data or information that would breach reporting restrictions imposed by the Court, and * redacting any personal or sensitive personal data, including clinically confidential information, that has not already been published and which cannot be justified as necessary or relevant, bearing in mind the overall purpose of publishing the overview reports. 5. Only redactions that are strictly necessary have been made and the final versions of the reports to be published will allow the lessons from this tragic case to be learned as widely and thoroughly as possible. 6. The SCR overview reports for Peter Connelly are available for download from this page: * First Serious Case Review overview report relating to Peter Connelly dated November 2008. * Second Serious Case Review overview report relating to Peter Connelly dated March 2009. 7. The following related documents are also available to download from this page: * The executive summary for the first Serious Case Review overview report dated November 2008 relating to Peter Connelly. * The executive summary for the second Serious Case Review overview report dated February 2009 relating to Peter Connelly. * A copy of the letter of 10 June 2010 sent to DCSs and LSCB chairs by Tim Loughton, Parliamentary Under-Secretary of State for Children and Families, to confirm new arrangements and amended guidance for publication of SCRs.
DfE media enquiries
Central newsdesk - for journalists 020 7783 8300
Published 26 October 2010