World news story
Peru and the United Kingdom: partners in education
Exciting projects in English Language Teaching make education a vibrant part of the UK-Peru relationship.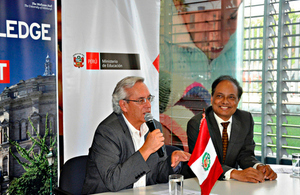 The British Embassy in Lima has put education at the top of the UK - Peru shared agenda. The main areas of collaboration between our countries are English language teaching, higher education at undergraduate and postgraduate levels, and teacher training.
Last November in London the Peruvian Minister of Education, Jaime Saavedra, and the British Schools Minister, Nick Gibb, signed a Memorandum of Understanding (MOU), which set the framework for UK support and technical assistance to be provided by the UK government, education agencies, and educational institutions and companies.
In the first four months of this agreement, over 150 Peruvian teachers studied a seven week training course at King's College London and at the University of East Anglia, where they became familiar with the latest techniques and resources in English Language Teaching (ELT).
Other 400 teachers from public high schools in Lima, Piura, Arequipa and Moquegua took part in an intensive summer school for English teachers designed and delivered by the British Council. Classes were conducted by 20 British instructors who came to Peru exclusively for this purpose.
These training programmes were part of Peru's plan to become a bilingual country in English by 2021, and they were led by Peru´s Ministry of Education and Peru´s National Scholarship Programme (PRONABEC), with the support of the British Embassy and education agencies in the UK.
British universities are also highly valued by Peruvian students and government. More than ever Peruvians are looking at the UK as a preferred option for study, particularly at the postgraduate level. The dream of studying in the UK is becoming a reality for more young Peruvians, thanks to Peruvian scholarship schemes such as PRONABEC and "Reto Excelencia", and the UK's Chevening scholarship scheme which has tripled in size this year. Over 10,000 people attended the first International Graduate Fair of the Presidential Scholarship Programme, where 15 top British universities participated, including University College London, the London School of Economics, and University of Newcastle,. The fair was organised by PRONABEC.
Links and collaboration between Peruvian and British universities are strong and growing. In the last couple of years more partnerships have been established, for example, Peruvian Universidad del Pacífico launched a joint degree programme with London School of Economics
Peru and the UK have a strong and rich relationship, particularly in education where the British schools and the Britanico are well established centres of excellence. With more Peruvians going to study in the UK, more links between our universities and educational institutions, and the exciting and ambitious partnership to make Peru bilingual in English by 2021, we look forward to an ever stronger relationship in education.
PHOTO GALLERY: Please click here.
Published 6 April 2015