Perth hosts Scotland's biggest Armed Forces Day parade
The marchers were joined by four pipe bands and two military bands, as well as a variety of military vehicles from Word War Two. The parade…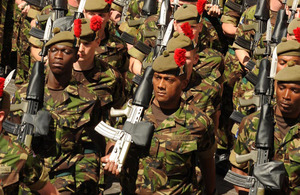 The marchers were joined by four pipe bands and two military bands, as well as a variety of military vehicles from Word War Two.
The parade, part of the Perth Day celebrations, passed the saluting dais in Tay Street where His Royal Highness Prince Edward, Earl of Wessex, took the salute along with Provost John Hulbert and the Lord Lieutenant of Perth and Kinross, Brigadier Mel Jameson.
The event was organised by 51st Highland, 7th Battalion The Royal Regiment of Scotland (7 SCOTS), the Perth-based battalion which was granted freedom of the city earlier this year.
Provost Hulbert said:
The parade was one of the major highlights of all the Perth 800 celebrations. It was the biggest parade of its kind held in Scotland this year, and one of the biggest Perth has ever seen.
Representatives from the Army, Royal Navy, Royal Marines and the Royal Air Force were marching. They were accompanied by veterans, many of whom rode in vehicles used in the Second World War.
Armed Forces Cadets, Scouts and Brownies also joined the march. A total of six pipe and military bands were positioned along the parade.
I am very proud that I was able to welcome delegations from all of Perth's twin cities to enjoy this unique event. It was a riot of colour and noise, and represented all that is best about our Armed Forces and our young people.
The people of Perth and Kinross came out in force to show their support for our forces.
Commanding Officer of 7 SCOTS, Lieutenant Colonel Ed Chelsea, said:
It is tremendous that with our sister battalion, The Black Watch, 3rd Battalion The Royal Regiment of Scotland, and the pulling power of Perth's reputation that we have been able to assemble so large a serving and retired naval, military and air force contingent.
It reflects the strong links which we in Her Majesty's Armed Forces have with the population and city of Perth. We are also grateful to the youth organisations for their enthusiasm to be involved in the march, which includes the Pipes and Drums of Strathallan School, Morrison's Academy and Glenalmond College.
Brigadier George Lowder, the new Commander of 51 (Scottish) Brigade, said:
Perth and Kinross Council and the local community have really fallen in behind the Armed Forces and have worked tremendously hard to provide a celebration and action-packed Armed Forces Day event during Perth Day.
It means a great deal to us, and members of the public, who don't normally make contact with the military, took the opportunity to come along and get to know us better.
Many of the military units based in Scotland - both Regular and Territorial - are deployed on operations in Afghanistan, making personal sacrifices to defend the UK from terrorism and contribute to international peace and security.
They are very grateful for the incredible support that the people in Scotland show to them and their families - it gives them strength and helps them focus on the job in hand.
HRH Prince Edward also presented six Elizabeth Crosses to family members of Service personnel who have died while on active service.
Following the announcement by the MOD that the main Armed Forces Day event will take place in Scotland in 2011, First Minister Alex Salmond said:
It is excellent that Armed Forces Day will take place in Edinburgh in 2011. It will be a privilege to host this important tribute in Scotland next year.
We not only commemorate those who have fallen but also celebrate the commitment of our Armed Forces, past and present, to this nation.
Armed Forces Day is a fitting way to ensure that the courage, valour and sacrifice of Scotland's serving Armed Services and veteran community is properly and appropriately recognised and commemorated.
Published 5 July 2010