Personnel visit Singapore for international tri-Service exercise
A group of Service personnel has taken part in a major exercise in the Asia-Pacific run in support of the Five Power Defence Arrangements (FPDA).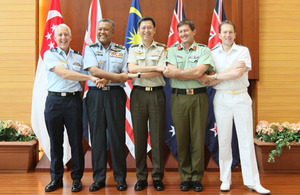 The 38 personnel from all three Services, including a number of reservists, deployed to Changi Naval Base in Singapore for the command post exercise, named Suman Protector 12, which is held once every five years.
Working alongside their FPDA colleagues, the Army, Navy and RAF officers spent nearly three weeks immersed in a fictional environment in the South China Sea, employed in both kinetic and disaster relief operations, in order to develop the know-how of their Asian counterparts.
Led by Commodore Clive Walker, Commander Joint Force Logistics at the Permanent Joint Headquarters, and with a detachment of logisticians, the UK team also included air traffic control, engineering, fuel, intelligence, surveillance and reconnaissance (ISR), legal and media specialists.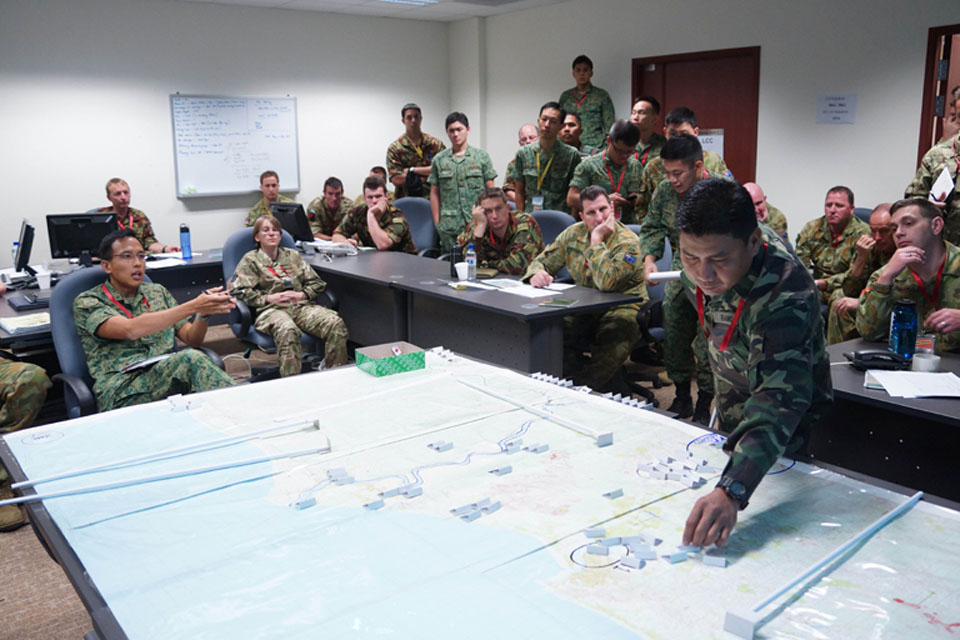 Commodore Walker said:
It has been a privilege for us to be here these past few weeks. The FPDA might have been forged during the Cold War, but it has adapted well to the realities of the twenty-first century, and still plays a key part in our regional defence engagement.
The UK Armed Forces have a well-established relationship with our counterparts both in Singapore and the wider region, and this exercise is a clear demonstration of that.
The British Armed Forces were joined by a similar number of Malaysians and New Zealanders, and some 80 Australian Defence Force personnel. However, the bulk of the numbers came from the Singapore Armed Forces, who, as hosts, were particularly keen to test their knowledge and military systems, and to learn from their colleagues' operational experience elsewhere in the world.
They were visited by the Chiefs of both the Singapore and Malaysian Defence Staffs while they were there, as well as by various Association of Southeast Asian Nations and Antipodean dignitaries.
In the interests of team-bonding, the Singaporean hosts organised an FPDA Cup in which British teams competed for various sporting trophies (and won the prize for most outstanding footballer).
There was also time to visit the Commonwealth War Graves Commission cemetery at Kranji, on the site of a former Japanese prisoner of war camp, which stands as testimony to the fate of over 24,000 Commonwealth forces personnel.
The Five Powers in question are Singapore, the UK, Malaysia, Australia and New Zealand, which are all members of the British Commonwealth.
The Five Power Defence Arrangements are a series of bilateral accords dating back to 1971 in which the members agreed to consult one another in the event of any external aggression or military action on peninsular Malaysia and Singapore.
The FPDA headquarters (or Headquarters Integrated Area Defence System) is based in Malaysia, from which UK and other FPDA personnel also took part in the exercise.
Published 2 November 2012