Personnel get boost with new bedrooms
Armed Forces personnel across England and Wales have got a boost from better accommodation, with 2,582 new bedrooms for single Servicemen and women delivered during the financial year 2010-11.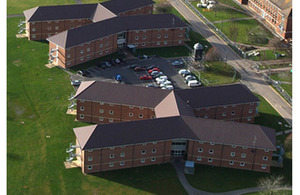 The upgraded bedrooms at military bases have been delivered by the Defence Infrastructure Organisation (DIO) working with its partner Debut Services Limited.
The new accommodation has been built under Project SLAM (Single Living Accommodation Modernisation), which is working to improve accommodation for Army, Royal Navy and Royal Air Force personnel.
Construction over the 12-month period also brought the total number of bedspaces delivered under project SLAM to 15,462.
David Olney, DIO's Deputy Chief Executive, said:
Supporting our Armed Forces is DIO's top priority. Delivering improved single living accommodation plays a key role in contributing to operational success. It is important that our Service personnel have the best possible facilities.
Working with Debut Services, we are delighted to have been able to provide top quality living accommodation for military personnel across all three Services.
Speaking about his room at Bovington, the Army's new centre of excellence, WO2 Marc Davies, Armour Centre Bowman Systems Manager, said:
This accommodation is a great improvement on the previous mixture of rooms occupied by the Warrant Officers' and Sergeants' Mess. Improvement to our living space goes a long way to enhancing our quality of life, and indeed shows commitment to promises that the standard of accommodation for Service personnel will be increased.
Practically, the increased size of the room and storage facilities is a massive improvement. All rooms are finished to a fantastic specification; the provision of telephone lines and Sky TV terminals is welcomed. Coupled with the furniture and 'white goods' there is little more a resident would require.
Commenting on the improvement in living conditions for his soldiers at Bovington, Lt Col John Walker MBE, Headquarters Armour Centre said:
The addition of the SLAM blocks is a major part of the long modernisation required to ensure continued training delivery at Bovington. It has been a long journey to the extremely smart and well-appointed SLAM blocks from the previously inhabited old Sandhurst Blocks and the cramped and spartan Warrant Officers' and Senior NCOs' accommodation blocks.
Project SLAM bedspaces were delivered at the following locations during 2010-11:
• Catterick - Vimy Barracks, 392 bedspaces
• Catterick - Catterick Campus, 192 bedspaces
• Southampton - McMullen Barracks, 114 bedspaces
• Hounslow - Cavalry Barracks, 354 bedspaces
• Helston - RNAS Culdrose, 337 bedspaces
• Northallerton - RAF Leeming, 216 bedspaces
• Carterton - RAF Brize Norton, 300 bedspaces
• Barry - MOD St Athan, 144 bedspaces
• Woolwich - Woolwich Barracks, 101 bedspaces
• Andover - Hyperion 81, bedspaces
• Gloucester - Imjin Barracks, 252 bedspaces
• Wareham - Bovington, 99 bedspaces
Published 26 May 2011