Press release
Personal locator beacon triggers Lyme Bay Rescue
2 men were rescued by activating a personal locator beacon, (PLB) after their fishing boat broke down 21 miles offshore in Lyme Bay.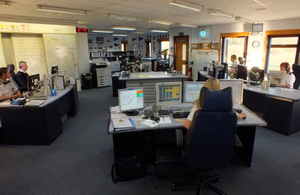 Portland Coastguard first had contact with the vessel Sole Trader at 8:00 on Friday 18 April for a radio check on departure from Weymouth Harbour. At 11:55 on that day the Coastguard received a 406 MHz distress signal from a beacon in the Lyme Bay area and the Coastguard rescue helicopter from Portland and Sennen RNLI lifeboat were on scene within 30 minutes.
On arrival, it was apparent that the vessel had been taken out for sea trials with a new engine, which had stopped working. The crew had made a VHF radio broadcast and also a VHF DSC distress call but due their distance offshore shore and being relatively low in the water these broadcasts were not picked up by anyone in the area so they activated the PLB. The Sole Trader was safely escorted back to shore.
During the search, Coastguards were able to access the vessel details and speak to a shore contact because the beacon was correctly registered. The owner's wife confirmed that he and another man, both from Bristol were out in the vessel in the Lyme Bay area.
Malcolm Wright at Portland Coastguard who coordinated the rescue today says,
The men on this vessel had the right communications equipment but were simply too far from shore to raise the alarm using VHF radio. Fortunately they also had a PLB which they then activated and got help quickly. Without the beacon, nobody would have known that they were in difficulty until tonight when they would have been reported overdue.
-Ends-
Maritime and Coastguard Agency press office
Press enquiries 020381 72222 (Monday to Friday, 9am-5pm)
Outside these hours, for emergency press enquiries only please dial the above number. You will hear a message giving an out of hours pager number.
Published 22 April 2014