News story
Perpetrators of Bourgas terror attack should be brought to account
Foreign Secretary William Hague calls on Lebanese government to cooperate with the Bulgarian government's investigation into terrorist act.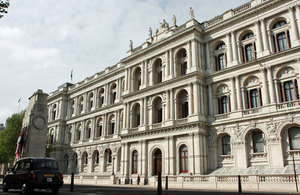 Commenting on today's announcement of the results of the Bulgarian investigation into the terrorist act in Bourgas on 18 July 2012, the Foreign Secretary, William Hague said:
"The attack on a bus carrying Israeli tourists in Bourgas was an appalling and callous act of terrorism whose perpetrators need to be brought to account. I welcome today's announcement by the Bulgarian Interior Minister, Tsvatan Tsvetanov, of the conclusions of the painstaking investigation carried out into this crime. I pay tribute to the Bulgarian authorities for their excellent investigatory work.
"The Bulgarian government has said, based on the detailed findings of the investigation, that there is a justified assumption that two individuals belonging to Hizballah's military wing were involved in the bombing. We call on the Lebanese government to fully co-operate with the investigation.
"It is important that the EU respond robustly to an attack on European soil. Every act of terror is an attack on our shared values. In committing an attack, terrorists seek to undermine our resolve, but they should only serve to strengthen it. The Home Secretary and I will be talking to our EU colleagues about the measures we can now take to continue to make our citizens safer."
Further information
Published 5 February 2013