News story
Permanent Chief Executive confirmed for the Rural Payments Agency
The new permanent Chief Executive of the Rural Payments Agency has been confirmed.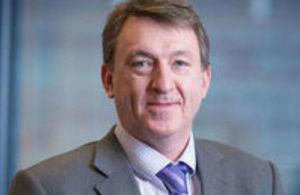 Paul Caldwell will be the new permanent Chief Executive of the Rural Payments Agency it has been announced today.
It follows his appointment as Interim Chief Executive January 2017 after serving as the Basic Payment Scheme Operational Delivery Director at RPA form 2010.
Clare Moriarty, Defra Permanent Secretary, said:
I am pleased to confirm Paul Caldwell's appointment as permanent Chief Executive of the Rural Payments Agency. He has already been instrumental in improving performance, delivering over 99% of BPS 2016 payments by the end of June 2017, first as Operations Director and then as Acting Chief Executive.

Paul is well aware of the challenges that lie ahead and his appointment will provide important stability, working alongside the RPA's experienced leadership team.
I am confident Paul will continue to even improve performance, building on the Agency's recent achievements for the benefit of our farmers and rural communities.
Paul Caldwell, Chief Executive of the RPA, said:
I am delighted to have been appointed as Chief Executive of the Rural Payments Agency after being given the opportunity to lead the Agency at the start of 2017.

Our work is vital to supporting our world-leading food and farming industry at such a crucial time.

My commitment to improving our service to farmers remains stronger than ever. I look forward to leading the Agency, providing stability and support to this vital sector as we prepare to leave the EU.
ENDS
Notes to editors: Paul Caldwell has been with the Rural Payments Agency (RPA) since 2001. Paul has worked in operations, communications and strategy, and was made Operations Director in 2010. He was appointed in 2016 as the BPS Operational Delivery Director and as Interim Chief Executive in January 2017. Paul was previously manager at the British Cattle Movement Service (BCMS) and occupied various roles within the former Ministry of Agriculture, Fisheries and Food (now Defra).
Published 17 July 2017