People power in Liverpool beating neighbours from hell
Housing and Local Government Minister Grant Shapps and Baroness Helen Newlove, on her first visit as an adviser for the Department, have today…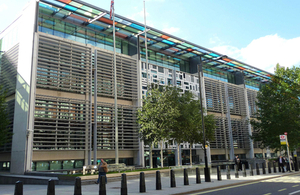 Housing and Local Government Minister Grant Shapps and Baroness Helen Newlove, on her first visit as an adviser for the Department, have today visited Liverpool to see what the Government can learn from a local community that has come together to defeat the bullies and troublemakers in their area.
The Government has already announced plans to tackle anti-social behaviour by social housing tenants. A package of measures will strengthen the hand of residents, councils and housing associations to take on the neighbours from hell who inflict misery and fear on their fellow tenants.
But Ministers want to go further and faster, that's why Mr Shapps and Baroness Newlove wanted to see for themselves how an estate's recent tenant-led approach to reduce crime and anti-social behaviour has transformed the area, improving housing and the environment, and engaging the wider community.
Housing and Local Government Minister Grant Shapps said:
For years, there has been an abject failure to recognise that stronger local powers for the people who manage and live in social housing are crucial for tackling anti social behaviour.

I'm determined to change this - we've made a good start, announcing plans to introduce a new mandatory ground for possession, so any tenant convicted of serious anti-social behaviour can be evicted much more quickly.

But much more still needs to be done. That's why we're here today to learn from the people on the ground how local people power can smash the scourge of anti-social behaviour in social housing. The work on the Westminster Estate shows that, rather than being the helpless victims of abuse by a disruptive minority, tenants working together and supporting each other can tackle this menace head-on and reclaim their streets.
Baroness Helen Newlove said:
I'm delighted that my first visit as adviser to the department is to see how housing tenants can work with their landlords and with each other to beat anti-social behaviour. If we don't tackle anti-social behaviour around our housing, we'll never be able to take back our streets and make our houses feel like homes again.

What we can see in Liverpool is that when we place decision making powers and resources in the hands of those directly affected, they can deliver real improvements on the ground.

I look forward to using what we learn today, working with ministers, to give communities and social landlords across the entire country more powers and support so they can take a firm stand against the bullies and troublemakers who blight our neighbourhoods.
Mr Shapps has already announced new local powers that will include an additional mandatory ground for possession, so those tenants with a track record of anti-social behaviour can be evicted from their council or housing association property much more quickly.
Ministers believe this will lead to a faster and fairer courts process - being found guilty of housing related anti-social behaviour in one court will provide automatic grounds for eviction in the county court, removing the need to prove the incidents of anti-social behaviour for a second time.
Mr Shapps has also announced that he will dedicate £300,000 of Government funding to a new central team to help tenants and landlords tackle the blight of neighbours from hell in their communities.
Under the recent initiative in Liverpool the landlord, Liverpool Mutual Homes, joined forces with Liverpool City Council, Merseyside Police, the Westminster Estate Tenants and Residents Association (WETRA), and the local Rathbone Youth Outreach group. Working together, the tenant-led project has helped improve services, reduce anti-social behaviour and make the area a cleaner, safer place to live.
Chief Executive at Liverpool Mutual Homes, Steve Coffey, said:
The success of Liverpool Mutual Homes's partnership with Westminster Estate Tenants and Residents Association shows exactly what can be achieved by working closely with tenants and listening to their needs and opinions.

The estate was in poor condition and anti-social behaviour and crime levels were high but our investment programme has improved the physical appearance of homes and given people a sense of pride in their neighbourhoods.

The involvement of tenants in schemes such as the Intensive Community Payback has empowered them to take an active role in influencing the areas they live in.

We are now using this model at other our other estates across the city and I would encourage all our tenants to get involved to help us shape their communities and improve their lives.
Background
The Minister was joined by Baroness Helen Newlove, on her first visit as an adviser for the Department, where she will continue her work as the Government's champion for grassroots activists across the country who are working hard to make their communities safer.

The Government's champion for Active Safer Communities, Baroness Newlove, joined the Department for Communities and Local Government in April to continue her campaign for a 'people power' revolution.

The Baroness is a community campaigner based in the north west and was made a peer in July 2010. Since the death of her husband Garry in 2007 in Warrington, she has worked to make communities safer and championed the cause of victims of crime.

Her report 'Our vision for safe and active communities' makes recommendations based on her own experiences, and those of other activists to build happier and safer neighbourhoods.

Under the Westminster Estate scheme, Westminster Estate Tenants and Residents Association members act as the first point of contact for other residents, and help resolve issues in their neighbourhood. Residents are expected to outline their priorities at monthly 'have your say' meetings, take responsibility for the behaviour of their family members and visitors, keep diaries of any incidents, and report issues to the relevant agency.

They also help keep communal areas tidy, controlling pets, organising activities that represent the interests of the whole community, and keeping other residents informed of their work through a quarterly newsletter.
Twitter
Keep up to date with the Department by following us on Twitter (external link).
Media enquiries
Visit our newsroom contacts page for media enquiry contact details.
Published 9 May 2011