News story
Penny Mordaunt statement on the Rohingya humanitarian crisis
International Development Secretary reacts to the release of the Joint Response Plan.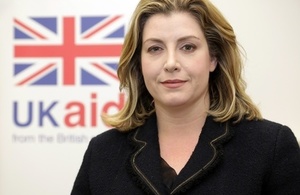 Reacting to the release of the Joint Response Plan for the Rohingya Humanitarian Crisis, International Development Secretary Penny Mordaunt said:
I urge the international community to continue to support the Government of Bangladesh to find the best solutions to protect Rohingya victims of ethnic cleansing who are in dire need. The UK has led the way to help alleviate suffering and meet humanitarian needs in Cox's Bazar, and will continue to be a leading donor.

The sprawling camps have provided safety for those who have fled cruel violence, but this place of refuge is becoming unsustainable with over-crowding compounding the risks of the coming monsoon and cyclone season. Rohingya families and host communities urgently require smaller and more manageable facilities for the future, and planning for the medium term.

At the same time we must remember that the origins of and solution to this crisis lie in Burma. The UK will continue to maintain international pressure on Burma to create the conditions for safe, voluntary and dignified returns overseen by the UN.

This crisis has not left the minds of the British public and I would like to thank them for their remarkable generosity in raising millions of pounds for lifesaving food, water and shelter which is making a real difference.
Published 16 March 2018