News story
Peer to Patent launches in the UK
New website launched to help improve the patent application process for inventions.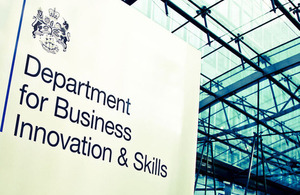 Minister for Intellectual Property Baroness Wilcox today launched the Peer to Patent website, an innovative new tool which allows experts from the scientific and technology community to view and comment on patent applications.
During the six month pilot up to 200 applications in the computing field will be gradually uploaded for review on the website.
These will include a range of inventions from computer mice to complex processor operations.
Baroness Wilcox said:
"Patent applications granted after using the Peer to Patent website review will be potentially stronger, giving businesses better protection to grow their innovative ideas. This will give the IPO access to a wider body of knowledge when deciding whether a patent should be granted.
"The pilot will give experts the opportunity to comment on patent applications and share their vital expertise before patents are granted. It will also mean that inventions already known in the wider community will be filtered out more readily."
Read the Peer to Patent Blog which will give you the latest news, views and updates from the team.
The benefits of Peer to Patent
Opens up the patent examination process.
Improves the current system by helping to avoid the granting of overly broad patents.
Demonstrates the role that non-governmental experts can play in improving the patenting process.
Makes public participation relevant to actual decision making.
Provides the opportunity for the scientific and technical communities to research and discuss a patent application and share their knowledge with the IPO.
The UK pilot goes live today (1 June) and follows on from successful Peer to Patent websites that have already been run in the USA and Australia.
The project was developed by the New York Law School (NYLS) from the work of Professor Beth Noveck. The pilot will end on 31 December 2011.
Links
Published 1 June 2011